The Whole Damned World: Aggies at War, 1941-1945
published with New Mexico State University Library
Martha Shipman Andrews, editor, with an introduction by Richard A. Melzer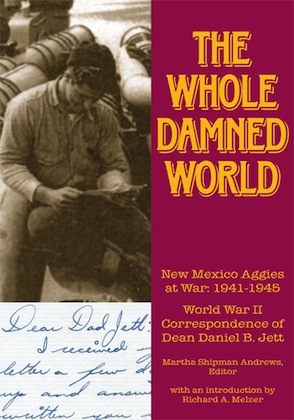 Preface

Morgan Nelson '41
Roswell, New Mexico, 2008


Dean Jett was not a handsome man but he was a beautiful person. He genuinely cared for everyone he knew and he knew everyone. He had a phenomenal memory of people. He not only remembered names but remembered your family and interests. You were immediately aware that this was not just a shallow duty but a genuine interest in you as a person. This interest was not confined to engineering students but extended to the entire campus and everyone he met. Dad Jett was indeed a remarkable person. Not only his students but everyone admired and trusted him. He even had time for his own family yet everyone felt they were his family and appreciated and responded to his sincerity.

He had a painful stutter but that was an affliction noticeable only to those who did not know him. In the classroom he seldom stuttered. He thought since you were there to learn, he was there to teach you. Having a teacher and Dean you could call Dad, created no problem; it was a relationship of mutual respect and you were expected to succeed. At graduation, he called the names of the engineers and their honors, alphabetically, without notes while the other deans read the names of their graduates. He knew his students.

He was a Master Mason, and held all their offices. He was officially "Dad Jett" because he was the DeMolay Chapter and the Rainbow Assembly "Dad". Though officially their "Dad", the title conveyed the love, trust, respect, and relationship everyone felt for him and was used by everyone. At school dances, he danced with every girl; there were no wallflowers. He had his own version of dancing and jitterbug that did not totally correspond with popular steps of that time. He was also a fraternity sponsor.

During World War II, writing to Dad Jett was a freedom where we could express our triumphs and our trials with someone who truly understood us. It was a freedom that some could not even share with their parents, sometimes to protect them and sometimes to brag a bit to someone who really wanted to know. Reading these letters brought tears to my eyes and memories of my college days and the war of our generation. I read the letters of Lee Silbo and Bobby Carr and their vibrant lives, only to be lost and never return. These were real people. These letters of our youthful days were from our hearts to one whom we trusted and knew he really cared.

(Copyright 2008; may not be reproduced in any way without written permission)