Religious Architecture of Hispano New Mexico
by Thomas L. Lucero and Thomas J. Steele, S.J.
5-1/2 x 8-1/2
72 pages; 38 black-and-white photographs
SOFTCOVER 1-890689-40-8 Regular Price $15.95

Finalist, 2007 New Mexico Book Awards

Ranked as the 88th Most Popular Religious Architecture Book on Amazon.com (9/28/2008)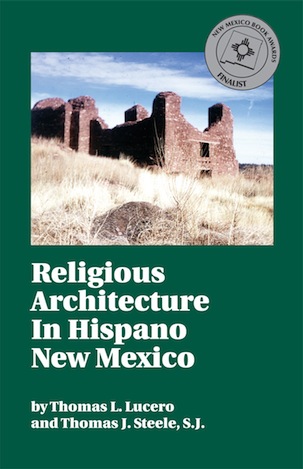 DESCRIPTION

The first classification system for the adobe churches and chapels of Hispanic New Mexico, this armchair expedition is led by two of the leading experts in the field — Lucero, a leading architect, and Steele, one of the major authorities on religion in New Mexico. Together they help the reader develop both an understanding of and an appreciation for the unique religious architecture found in Hispanic New Mexico.
REVIEWS

A slender, 64-page, profusely illustrated and very highly recommended analytical compilation and survey of early southwestern frontier church buildings, "Religious Architecture In Hispano New Mexico" by architect Thomas L. Lucero in collaboration with Thomas J. Steele, a Jesuit scholar who is the leading authority on the Hispanic devotional arts of New Mexico, offers an informed and informatively descriptive explanation of New Mexico's Hispanic adobe churches. Of special note is the authors classification system that will prove exceptionally useful for scholars and non-specialist general readers alike when reviewing the distinct types of religious structures associated with 18th and 19th century religious structures in Hispanic New Mexico. --
Midwest Book Reviews Reviewers Bookwatch
, November 2007
This little book is a concise discourse on the structure and architecture of New Mexico's old Catholic religious structures: churches, chapels, and moradas (chapter houses of the penitentes), written by an architect and a New Mexico religious history scholar. The book comes with its own classification system for ranking New Mexico's ecclesiastic buildings: by presence or absence of characteristic traits such as side chapels, clerestories, raised floor altars, and other features. After reading the book and examining the drawings and photos, the reader will undoubtedly come away with a new understanding of New Mexico's Hispanic adobe sanctuaries, after only 48 pages, not counting the endnotes and a glossary. ---
New Mexico Magazine
, January 2006
Architect Thomas L. Lucero and scholar Thomas J. Steele, S.J., present Religious Artchitecture in Hispano New Mexico, a slender yet detailed study of the structure and architecture of churches. Setting forth a classification system that can prove most helpful when comparing distinct types of Hispanic religious architecture in New Mexico, this book is filled with black-and-white diagrams and photographs as well as extensive text description, historical summaries, and more. A thoroughly researched and invaluable guide for architecture students, designers, and scholars seeking to better understand the form, purpose and function of Hispanic New Mexican places of worship. --
Midwest Book Reviews Small Press Bookwatch
, December 2005

Thomas Lucero and Father Thomas Steele have, in the space of one small book, encompassed a great deal of information about New Mexico's historica Hispanic churches. To that end, the authors have devised a classification of features that should be considered in evaluating a structure and provide a list of these. In a somewhat satirical way, the authors decry the way New Mexico churches and chapels are described by some authors. Visitors to historical churches and chapels in New Mexico, or, for that matter, throughout the Greater Southwest, are well advised to carry a copy of this little book in their veichles. It is highly recommended to the general reader. --
Colonial Latin American Historical Review
, Winter 2004

Build It and They Will Come

Godless liberals might not like to admit it, but it's impossible to deny that religion has been responsible for many and possibly even most of humanity's most impressive artistic achievements. You can argue that the Big Guy doesn't exist, but you can't legitimately argue that belief in Him—or She or Them, depending on your particular bent—hasn't led to some astounding creations. The ceiling of the Sistine Chapel. The pyramids. The Hagia Sophia. The Pieta. Chichén Itzá. And those are just a few of the more obvious works of timeless genius. Trust me, it's a long list.
Our own little home territory is no exception. Most of the elaborate Native American architecture and art scattered throughout New Mexico has some kind of religious significance. Although the specific function of the buildings in Chaco Canyon might not be fully known, there can be little doubt that the motivation behind their construction was largely spiritual.
A new book put out by LPD Press, a local outfit based in Los Ranchos de Albuquerque, claims to be "the first major explanation of the architecture of New Mexico's Hispanic adobe churches since George Kubler's landmark publication of The Religious Architecture of New Mexico in 1940." At the heart of this new book is an intriguing method for classifying New Mexican Hispano architecture based on the increasing complexity of architectural elements, from the simplest residence to the most elaborate mission church.
Of course, to our modern eyes, historic New Mexican adobe churches—even the most ornate ones—are humble affairs. That's a large part of their appeal. One of the best aspects of Lucero and Steele's book, though, is that it succeeds in showing us how majestic these structures would have appeared to those who first viewed them, especially to Native Americans who had never seen anything quite like them.
"Our world is now so filled, saturated, even overwhelmed with images on billboards, in magazines and newspapers, and in the movies and on television," write Lucero and Steele, "that we must make a concerted conscious effort to realize how relatively empty of art, how lacking in images, was the New Mexico of a century and a half ago."
Lucero has taught in the UNM School of Architecture and is currently a licensed architect in private practice. Steele is an ordained member of the Jesuit order who has written numerous books and articles on New Mexico Hispano culture.
From a layperson's perspective, the duo is at their best when they're offering up interesting little factoids. Who knew, for example, that European and New Mexican folklore indicates that the air is the domain of evil spirits, and that church bells are designed to cast a sacred sound into the air to dispel these evil forces?
Their book is a short one. It's filled with lots of black and white photographs of some of the finest examples of New Mexican religious architecture—the Las Trampas church on the High Road to Taos, the massive church at Acoma Pueblo, the ruins at Quarai, the Penitente Moradas dotting northern New Mexico. The book also includes plenty of ink drawings of various building plans and architectural features. Despite all these added visual elements, the book's design leaves something to be desired. It just isn't all that attractive. Many of the photographs don't reproduce very well, and the lengthy, inelegant captions are sometimes difficult to read.
Even so, the book is informative, and it offers a classification system that would probably be useful to many amateur and professional enthusiasts of New Mexico's Catholic architecture. Lucero and Steele are also careful to point out that we have very few surviving examples of historical religious Hispano architecture left here in New Mexico. We'd do well to preserve those we have.
Religious Architecture in Hispano New Mexico is exactly the kind of specialized, locally produced book that the New Mexico Book Co-op's brand new e-store specializes in selling. The e-store just launched last week, and it will continue to expand its online catalog over the next few months. To check it out, log onto nmbookcoop.com and click on "marketplace." -- Steven Robert Allen,
Weekly Alibi
AUTHOR INFORMATION

Thomas Lee Lucero was born in Albuquerque's Plaza Viejo (Old Town) to Heraclio Lucero of the Lucero de Godoy lineage and Anita Chávez of the Dúran y Chávez lineage, two early-seventeenth-century New Mexican families. Tom studied in the grade and junior high schools at San Felipe and at Albuquerque High. From 1966 to 1968 he went on active duty with the 82nd Airborne and the 101st Airborne, and during his two years in Vietnam the Army awarded him two commendations and a Bronze Star. Stateside again, Lucero entered the Albuquerque Technical Vocational Institute, taught some classes in drafting, and in 1972 earned a diploma in civil technology—mainly architecture; he then completed a Bachelor's in Fine Arts in 1974 and a Master's in Secondary Education in 1977. He taught in the UNM School of Architecture and Planning and at the Southwestern Indian Polytechnical Institute and has been a licensed architect in private practice from 1984 to present. Thomas J. Steele was born in St. Louis County—at the wrong end of the Santa Fe Trail. He entered the Jesuit Order in 1951, was ordained in 1964, and studied for a doctorate in American Literature at the University of New Mexico. Having been interested in both religion and art, he inevitably fell in love with the santos and acquired the nucleus of the Regis University Collection of New Mexican Santos—seven hundred plus at present. He taught at Regis University for twenty-nine years and at UNM (part time) for twenty. Fr. Steele has written books and articles about literature and various topics of New Mexican Hispano religious culture: santos, passion plays, the Brotherhood, the Jesuits' Conejos parish 1871-75, the Jesuits at San Felipe Neri 1868-1895, Padre Antonio José Martinez of Taos, Spanish-language religious oratory in New Mexico 1800-1900, Archbishop Jean Baptiste Lamy, and alabados (traditional Spanish hymns mainly from Mexico but sung in New Mexico).