Family History in the Rio Abajo
by Andrés Armijo


190 pages; 8-1/2 x 11 pb (153 photos) ISBN 978-1-936744-21-3 $49.95


Bronze Award, History, 2015 PubWest Book Design Awards
Fabiola Cabeza de Baca Book Award, 2015 Historical Society of New Mexico
Second Place, Adult Nonfiction-History, 2015 New Mexico Press Women Book Awards
Finalist-New Mexico History, 2014 New Mexico-Arizona Book Awards
Finalist-Multi-cultural Book, 2014 New Mexico-Arizona Book Awards
Finalist-Cover Design, 2014 New Mexico-Arizona Book Awards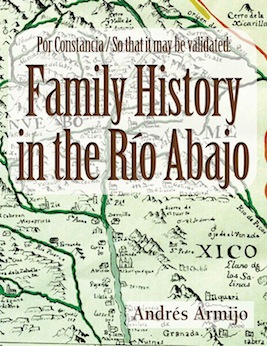 Written in the form of essays, biographies, transcribed oral histories and analysis of primary source documents, Family History in the Rio Abajo provides context on how people lived and what they did during unique periods in New Mexico's history. Recovering people's life stories and placing them in a historical, cultural and familial context provides the reader a strong understanding of Nuevo Mexicano's social and cultural history during the later part of the Spanish Colonial Period, the Mexican Period, and the Territorial period.

What Andrés Armijo has accomplished is quite remarkable. In recent years, many nuevomexicanos have traced their family history, following numerous lines over the generations. Andrés has done that through his painstaking research on many of his relatives, notably the Armijo, Bernal, and Gallegos lines, among others. But he has done something far more significant: he has told the history of the Río Abajo through the lens of his family. In many respects, this book is a model of what a family history can be. This book is a most welcome addition to the historiography of New Mexico.—Rick Hendricks, New Mexico State Historian

This wonderful book may be mistakenly assumed to be "only" a family history, as it is entitled. But it is much more: This is a primer on how to do genealogical research, documentation, and writing to produce an excellent family history. Most importantly, this book provides many vignettes of New Mexico's Hispanic history and folkways that everyone will find interesting. The reader doesn't need to be one of the author's many New Mexico primos to find this a rewarding book.—Michael Stevenson, past-President, Historical Society of New Mexico

This engaging work is an inspiring primer for others seeking to uncover family history.—Francisco E Balderrama, Emeritus Professor of Chicano Studies and History, California State University Los Angeles

Por Constancia is well-researched, informative, and a pleasure to read. Armijo paints a vivid picture of New Mexico's history in the twentieth century bringing this history alive. His book attests to the importance of every day people, and shows their stories as important historical records, erasing the wall of modern technology that has covered so much of what makes New Mexicans unique. Armijo erases the traces of time and shows that the lives and stories of years gone by are really nearby, alive, and close to us today. This book is a must for anyone interested in our recent past or family histories. — Nicolasa Chávez, Curator of Spanish Colonial & Contemporary Hispano/Latino Collections at the Museum of International Folk Art, Santa Fe, New Mexico

Andrés Armijo skillfully combines family history, sense of place, and cultural expressions with historical documents, personal stories, written words and audio recordings of relatives, photographs, and historical context to illustrate a vibrant pattern of cultural development and expression of the people of New Mexico's Hispano Río Abajo. This is an exceptional guide for those who want to better understand Nuevomejicano culture and how to document their own family history.—José Antonio Esquibel, Caballero de la Orden de Isabel la Católica.