New Mexico Historical Encyclopedia

by Don Bullis

960 pages 500+ illustrations; 7 x 10
ISBN 978-1-936744-33-6 ($48.95 pb)
978-1-936744-51-0 ($62.95 hb)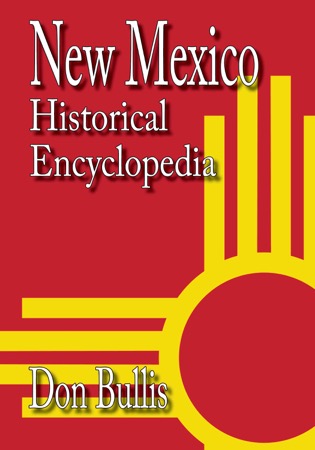 Reviews

New Mexico Magazine, January 2017:


Bullis loves state history

By GARY HERRON Observer staff writer


If you thought "War and Peace" was a large book, wait till you see what is coming off the presses soon from Rio Rancho's own Don Bullis. "New Mexico Historical Encyclopedia" (Rio Grande Books, Los Ranchos) is a 900-plus page behemoth, running from "Abajo, Rio" to "Zuzax." And, no, you can't wait for the movie.
Arguably, nobody around here knows more about New Mexico's past and its colorful characters than Bullis, named the state's Centennial Author in 2012. A 1970 graduate of Eastern New Mexico University, Bullis is one of the most-prolific authors in the state, with almost a dozen titles to his credit. This one, he says, "is a product of 50 years of writing about New Mexico in one way or another, the culmination of a lot of things that have come together." State historian Rick Hendricks calls the new book, "The starting place … I am almost certain everyone who reads it will learn something new about New Mexico history and enjoy immensely themselves in the bargain." Added historian Richard Melzer, the author of seemingly countless books about the state's history, "How many historians does it take to write an encyclopedia?"
It turns out, only one.
"Several years ago, about a dozen historians held a retreat at Ghost Ranch to plan a state historical encyclopedia for New Mexico's centennial year," Melzer recalled. "We had a really nice time, but concluded that we lacked the money, organization, equipment, and facilities to do the job. Don Bullis has shown us that all we needed was one gifted, dedicated, thorough historian to do the job and do it well." And, yes, Virginia: It includes four pages on Rio Rancho. Editorial credits and the bibliographies take up 47 pages. Bullis is the first vice president of the Historical Society of New Mexico, a member of historical societies in Sandoval County, Lincoln County, Albuquerque and Corrales, and a member of the Western Writers of America. A winner of the prestigious Rounders Award in 2013, Bullis is always ready to give a presentation: Among his topics are New Mexico Peace Officers Killed in the Line of Duty, the Lincoln County War, Old West Trivia, Significant Personalities in New Mexico History and Law and Order in Territorial New Mexico, to name a few. Recently, he was the guest speaker for an OASIS presentation in Northeast Albuquerque, where more than 100 interested folks gathered. "I see a lot of familiar faces here," he said, realizing people put stock into his research, as well as love for the subject matter. Opening with a couple of jokes, Bullis said he'd be happy to take his talk in any direction, based on questions from the audience — then was surprised nobody asked about Billy the Kid.
Don't expect Bullis to write anything about one of the state most-notorious former residents: "Another thing that we don't need is another book on Billy the Kid." Still, "the Kid," aka William Henry Bonney, gets several pages in the new book and the entry for Fort Sumner includes a photo of Bonney's gravesite there. It's obvious Bullis knows his stuff, answering questions tossed his way and elaborating on quite a few of them. He's always happy to talk about legendary Elfego Baca. Of course, as Bullis explains it, included in his two state biographical dictionaries and "99 New Mexicans … and a few other folks," there are "about 1,500 (names), so I don't often get a name I haven't heard of." He thinks the first article he did, while working on the student newspaper at ENMU, was back in 1967 or so, and he wrote even more extensively about the state when he was the editor of "New Mexico Motorist." "Those travel pieces got me interested," the native of Texas said "I really did like the landscape — I like desert landscape; I don't know why." His interest in the Land of Enchantment was piqued when he was living at Laguna Pueblo, teaching at the Seboyeta school there. "I thoroughly enjoyed the place." Bullis fielded some questions recently.
What's next? he was asked. "I'm toying with a couple subjects, (among them), me and the publisher decided to write a chronology of the subjects in the two books. It will have well over 2,000 entries, arranged by the calendar." And he's also thinking about writing on Western movies from a historian's point of view. Those movies, he said, "have violated almost anything you can imagine." His favorite Westerns: "Lonesome Dove" and "The Wild Bunch." Although the bulk of his work in non-fiction, Bullis said, "I really enjoy writing fiction; I spend a lot more time writing history. I wrote two novels ("Bloodville" in 2002 and "Bull's Eye" four years later) and I enjoyed writing them."
Among his awards, in addition to being the state's lone Centennial Author when the state celebrated 100 years of statehood four years ago, Bullis said he is proud of his "Rounders," a literary award from the New Mexico Book Awards and "important to me was the Eric Hoffer Award (for best reference book) in 2013 — that's a national award." Don't think Bullis is rolling in the dough like Stephen King or J.K. Rowling. He writes as a labor of love, not for a sole source of income. "I have been fortunate because I have a publisher who lets me do whatever I want to," he said. "(The books) are professionally done — but they're not money-makers. I can take my wife out a couple times a year on what I make. "But I enjoy doing it and talking to people about New Mexico." He and his wife Gloria have been married for more than 31 years; she enjoys tagging along on his book talks, occasionally reminding him of a topic when he gets off on a tangent. "It never gets boring," she said, her husband out of earshot. "He's the absent-minded professor."
What's his favorite place in New Mexico: Taos? Lincoln? Chaco Canyon? Apache Canyon? Surprise — it's none of them. "My favorite place is to be right here where I live," he said. "We enjoy going to Las Cruces; we're going to the historical society convention in Farmington. Farmington is neat. I've been in Sandoval County so long, I'm comfortable here."
Bullis has three book signings coming up in April:
April 15: Historical Society of New Mexico meeting in Farmington;
April 23: 1-3 p.m., Treasure House Books in Old Town; and
April 30: Los Lunas Museum, 2-4 p.m.
What People are Saying about this Book

The starting place for many people seeking to make the acquaintance of New Mexicans of yesteryear. I am almost certain everyone who reads it will learn something new about New Mexico history and enjoy immensely themselves in the bargain.—Rick Hendricks, New Mexico State Historian

These comprehensive anthologies provide invaluable information to historians, history writers, and readers of all sorts. More than just histories and biographies, they offer great reading for anyone interested in New Mexico history. One can turn to any page and find a great story, and it will be a rare reader or historian who can claim to have already known about all those represented.—Mike Stevenson, Past President, Historical Society of New Mexico