A Moment in Time
The Odyssey of New Mexico's Segesser Hide Paintings
edited by Thomas E. Chávez

352 pages 87 illustrations; 6 x 9
ISBN 978-1-936744-04-6 ($21.95 pb)

Finalist, Anthology, New Mexico-Arizona Book Awards, 2013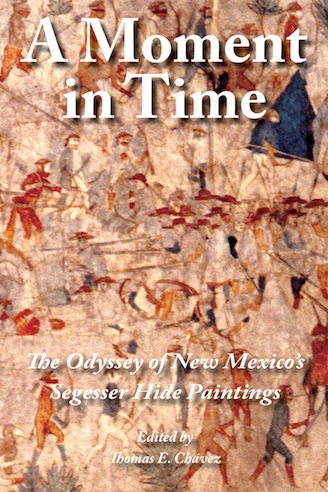 Painted in New Mexico sometime in the first half of the eighteenth century, the two large works of art that have become known as the Segesser Hide Paintings were sent to Lucerne, Switzerland in 1758 by a Jesuit missionary. Rediscovered after World War II by a Swiss ethno-historian, the paintings returned to New Mexico in 1986.

As works of art they are unique. As historical documents they are revealing. They are the most novel and important artifacts, if not works of art, of New Mexico's Colonial history. The history, intrigue, and inherent value of the Paintings has no bounds. Scholars have marveled over them.

This book is an anthology that brings together a sampling of those scholars who have seen and studied the Paintings. The information gleaned from the Paintings inspired them to think about history and art in different ways. Five of this book's authors have passed away, others continue to learn and share. The true value of the Segesser Paintings is that knowledge continues to radiate from them. This book is but a example of that benefit, an important contribution to New Mexico's Centennial.


ABOUT THE EDITOR

Thomas E. Chávez received his Ph. D. in History from the University of New Mexico. He served for twenty-one years as director of the Palace of the Governors in Santa Fe, New Mexico and retired as Executive Director of the National Hispanic Cultural Center. He has published nine books and many articles of history. He is a recipient of a Fulbright Research Fellowship and was recently awarded the Premio Fundación Xavier de Salas in Spain for his work promoting "understanding" between Spain and the United States.

The Segesser Hides are on permanent display at the Museum of New Mexico History in Santa Fe, New Mexico.


Table of Contents

The Segesser Hide Paintings: History, Discovery, Art by Thomas E. Chávez
Pictorial Images of Spanish North America by Bernard L. Fontana
An Odyssey of Images: The Influence of European and New World Prints on Eighteenth Century Hide Paintings in New Mexico byKelly T. Donahue
The Segesser Hide Paintings in Relationship to the European
and Native American Traditions by Howard D. Rodee
"In the Style of that Country;" The History of Hide Painting
in New Mexico by Donna L. Pierce
Buried Treasure: Spain's Legacy in High Plains History by James A. Hanson
Some Mission Records and Villasur by Fray Angélico Chávez
Francisco Xavier Romero: A Hitherto Unknown Santero by Thomas J. Steele, S. J.
Indian Auxiliaries and the Segesser Paintings by Oakah L. Jones
Joseph (López) Naranjo: Tewa Interpretar by Joe S. Sando
Treachery and Tragedy in the Texas Wilderness: The Adventures of Jean l'Archévèque (a.k.a. Juan Archibeque) in Texas by Kathleen Gilmore
Material Culture as Depicted in the Segesser Hide Paintings by Diana DeSantis and Charles Bennett
Some Comments on the Weapons in the Segesser Paintings by Howard D. Rodee
The Use of the Gun in the Villasur Massacre by Jeffrey Hengesbaugh
Conservation Report on the Segesser Hide Paintings by Bettina Raphael