Shoes for the Santo Nino

by Peggy Pond Church with illustrations by Charlie Carrillo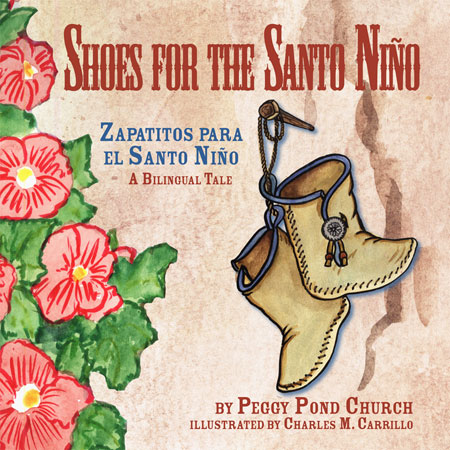 32 illustrations 64 pages

$19.95/PB (978-1-890689-64-3)

BOOK REVIEWS

Willapa Harbor Herald Dec 7, 2016


This lovely tale … is an award-winning children's story. The sensitive and intriguing illustrations by award winning artists Charles M. Carrillo, add delight to the story. "Shoes for the Santo Niño" would make an excellent Christmas gift. Unlike many Christmas tales, it is not focused on our anticipation of the arrival of Santa Claus nor on Joseph and Mary's journey. Instead, the focus is on Christ as an older child and on the spirit of giving.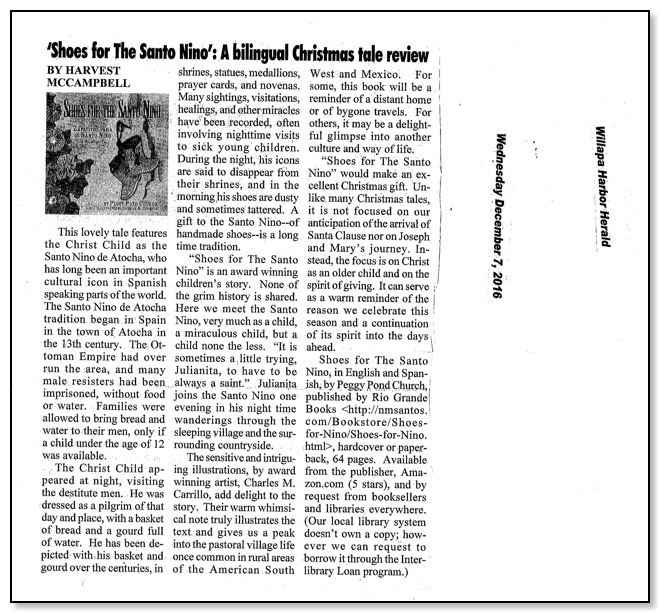 In New Mexico the miraculous and the commonplace are so entwined that they cannot be separated. The children's book Shoes for the Santo Niño: Zapatitos para el Santo Niño: A Bilingual Tale by Peggy Pond Church and illustrated by Charles M. Carrillo captures the essence of northern New Mexico village life where mystery and the everyday go hand in hand. The Santo Niño, the carved and clothed image of the Christ child, in six-year-old Julianita's adobe church in northern New Mexico mysteriously wears out his shoes so that they need to be replaced several times a year. Feeling sad for the poor boy alone in the church, Julianita decides to make him a new pair of special shoes. "When the shoes were finished she herself would take them to the Santo Niño, late in the day, perhaps very late after supper, and then she would hide in the church and see what he did with them!" As she explores her village at night with the Santo Niño, Julianita finds that the holy boy is not lonely after all. This recently rediscovered charming story was written in the 1930s by well-known New Mexico author Peggy Pond Church, best known for her book House at Otowi Bridge: The Story of Edith Warner and Los Alamos. Shoes for the Santo Nino includes a Spanish translation by Corina Santisteven and Yolanda Romero. When combined with fitting illustrations by Santa Fe artist Charlie Carrillo, this simple tale has a depth to its characterizations and imagery that will appeal to all ages. The Santo Niño is a wise little boy with a twinkle in his eye and a gentle sense of humor. When Julianita views her village through his eyes as he sits in the church and later explores the night with her the true wonder of her world is revealed. Shoes for the Santo Niño lovingly depicts the aura of the divine in all things – even the stubborn and lazy donkey eating tomato cans and the gaunt horse at the side of the road – and conjures the magic that is New Mexico.
-- Reading New Mexico, May 2010

BOOK SIGNINGS

Book signings and events are listed as a master calendar. Check out the calendar by clicking the button below:


Saturday, July 24, 2010
3pm--Museum of New Mexico History, Santa Fe
Friday, April 30, 2010
6pm -- La Fiesta de Colores, Grants, NM
Saturday, May 1, 2010
11am -- La Fiesta de Colores, Grants, NM
December 12, 2009
Spanish Winter Market, Santa Fe Convention Center, Santa Fe, NM
November 7, 2009
Rio Rancho Book Fair, Inn at Rio Rancho 10-4pm, 1465 Rio Rancho Dr, Rio Rancho, NM
November 14, 2009
Heard Museum Spanish Market, 2301 N Central, Phoenix, AZ
November 21, 2009
Santa Maria de la Paz Holiday Market, 10-4pm, 11 College Way, Santa Fe, NM
November 28, 2009
Borders at Cottonwood, 2pm, 10420 Coors Bypass, Albuquerque, NM



A Bilingual Children's Story/Southwest Folklore


The story of Julianita and the Santo Niño is an expression of the fabric of northern New Mexico, its culture and its traditions. Stories like this have been told literally thousands of times in homes all across the Southwest.

Venerated since the eighth century, the Santo Niño is an important part of both the Native American and the Hispanic traditions. People pray to the Santo Niño for healing, mainly of children, and devoted pilgrims frequently leave children's shoes at his shrines. Many believe that he wears the shoes out at night when he goes walking secretly visiting children while they are asleep in order to heal them. The most famous shrines to the Santo Niño are in Fresnillo, Zacatecas, Mexico and Chimayó, New Mexico.

This story was written in the 1930s by famed New Mexico author Peggy Pond Church and lost for almost seven decades. Re-discovered, it is now brought back to life with full-color illustrations by award-winning Santa Fe artist Charlie Carrillo.