How Chile Came to New Mexico

by Rudolfo Anaya
with illustrations by Nicolás Otero and translation by Nasario García

47 pages 45 color illustrations; 8 x 10 ISBN 978-1-936744-20-6 ($24.95 hb)


First Place, Best Latino Focused Book Design, 2015 International Latino Book Awards
First Place, Best Use of Illustrations Inside Book, 2015 International Latino Book Awards
Winner, Children & Young Adult Book, Southwest Book Design & Production Awards, NMBA
Winner, Children's Fiction, 2015 New Mexico Press Women Book Awards
Southwest Book of the Year: 2014 Border Regional Library Association
Second Place, Best Children's Fiction Picture Book-Bilingual, 2015 International Latino Book Awards
Honorable Mention/Finalist, Most Inspirational Children's Picture Book-Bilingual, 2015 International Latino Book Awards
Honorable Mention/Finalist, Best Interior Design, 2015 International Latino Book Awards
Finalist, Juvenile Non-fiction Children's Book Award, 2015 INDIEFAB Book Awards
REMARKABLE LATINO CHILDREN'S BOOK: 2014 Latinas for Latino Literature

Local New Mexico Children's Book Selected for National Best Book List
----------
It's the holiday season and the end of the year, with its accompanying "best of" lists, including book lists. Latinas For Latino Lit (L4LL), has compiled the Remarkable Latino Children's Literature of 2014, a wonderful collection of Latino-themed books, and one local New Mexico author is in the list of seven (7) remarkable books for the year. Rudolfo Anaya's "How Chile Came to New Mexico," illustrated by Nicolás Otero of Los Lunas and translated by Nasario García of Santa Fe is the only New Mexico book listed. The book is published by Rio Grande Books in Los Ranchos, New Mexico.
L4LL's mission is to boost literacy among U.S. Latino children through initiatives such as their summer reading program while showcasing Latinos' cultural, literary and artistic contributions. Much of the beautifully written and illustrated Latino children's books are not front and center on traditional book lists, and L4LL hopes their list spurs parents and educators - as well as publishers, sellers and reviewers - to showcase these works.
"Best of 2014 book lists that exclude diverse, specifically Latino authors have a disproportional social impact: who is published and by whom," said Viviana Hurtado, PhD, one of the organization's founders. "This, in turn, affects the books that libraries, schools, and bookstores order and ultimately the literature children read. At a time when our country and schools are more diverse than ever, the L4LL Remarkable Latino Children's Literature List of 2014 is meant to be a resource for families, libraries, and schools hungry for guidance on great stories that more accurately represent the American experience," Hurtado recently told NBC News, NPR Radio, and the New York Times.


GOLD MEDAL, MULTICULTURAL CHILDREN'S BOOK: 2014 Moonbeam Book Awards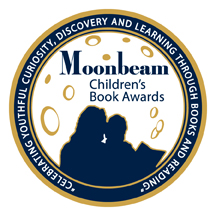 BEST CHILDREN'S BILINGUAL PICTURE BOOK: 2014 New Mexico-Arizona Book Awards
BEST COVER DESIGN (LARGER THAN 6x9): 2014 New Mexico-Arizona Book Awards
BEST BOOK: 2014 New Mexico-Arizona Book Awards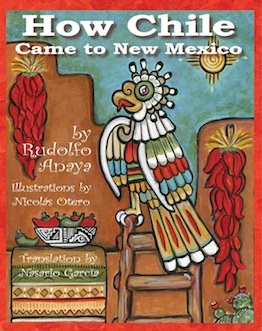 How Chile Came to New Mexico is the exciting tale of how New Mexico's premier crop came to the Land of Enchantment. The story shows the importance of Native Americans who helped bring chile to New Mexico through a long journey with many dangers. Intertwined in the book is love and romance and the story of the influence of many cultures in New Mexico's history. This is the second book in the award-winning series — the first, How Hollyhocks Came to New Mexico, also featured the storytelling of Rudolfo Anaya, the art of santero Nicolás Otero, and the translation of Nasario García.

REVIEWS


"How Chile Came to New Mexico" is the latest bilingual title from a multiple award-winning series about Hispanic and Native American cultural influences in the Southwest. Filled with excitingly vivid bright illustrations in Mexican-influenced artistic style, every page presents a gripping folk legend/love story written in both Spanish and English. It is the complex tale of how the plant which bears chile fruits came to be imported to New Mexico from much further south in prehistoric times by Native Americans of the Southwest and Mexico. Young Eagle is a young Pueblo man who is in love with Sage, a beautiful Pueblo maiden. Sage's father tells him he may have permission to marry Sage if he brings the mysterious chile fruit seeds to be planted from the far south. This is a journey of great length and hazard, but Young Eagle gladly undertakes it. He undergoes many dangers, trials and tests before completing his quest, but he is protected by special gifts granting safety from his parents and Sage. Finally he arrives at the Valley of the Aztecs. An old wise man named Parrot Man welcomes him and feasts him with foods flavored with chiles and even cacao and honey and corn. Because of his faith and respect, Young Eagle is allowed to complete his quest, taking chile seeds for plants back to the Land of the Great River, where the Pueblos live. Young Eagle is instructed to share his seeds with other tribes along his way, which he does. When he finally returns, there is a celebration and he marries Sage, shares the chile seeds with his in laws and tribe members, and founds a large, healthy family. The story of Young Eagle's quest to find the chile seeds is a traditional tale told among Pueblo families and other Southwestern groups. "How Chile Came to New Mexico" is completed with a bilingual glossary and dedication. This magnificent series is a must read for all students of many traditional American cultures, with Hispanic influences.— Small Press Bookwatch, Midwest Book Reviews
Albuquerque the Magazine features an interview with Rudolfo Anaya that puts this new book in context: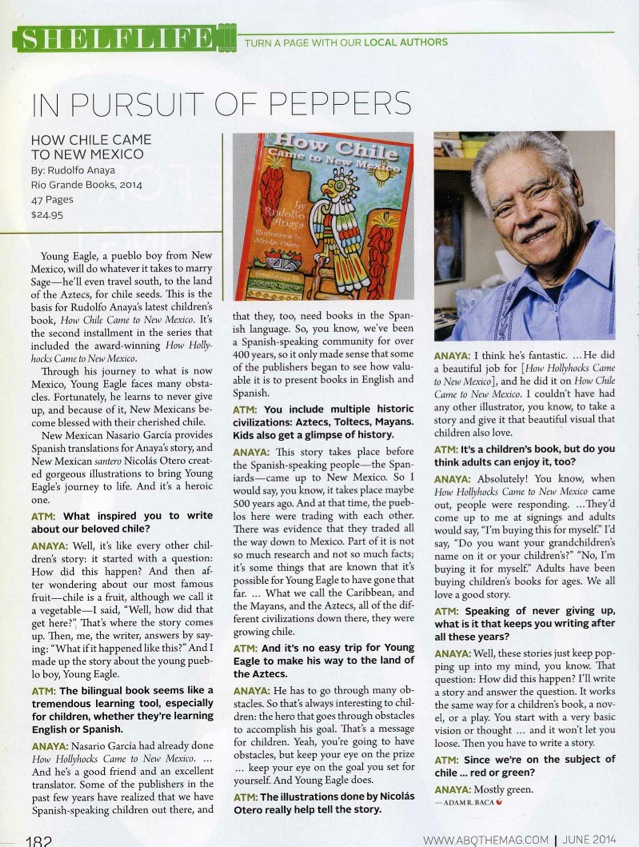 ALBUQUERQUE JOURNAL Review of "How Chile Came to New Mexico"

Book of the Week Review (April 13, 2014)
A young man's dangerous quest to marry a Pueblo maiden also yields a prize we treasure today
A taste of adventure

After publication of his 2012 book "How Hollyhocks Came to New Mexico," Rudolfo Anaya says people asked him, "Is that really how they came here?" Anaya recalled replying, "This is a children's story!" The newest bilingual "how" book from Anaya, the dean of Chicano literature, is "How Chile Came to New Mexico." And readers should refrain from peppering Anaya with the same question because it, too, is a story for children … and for adults to read to them. The charming, tasty tale, blending adventure and young love, credits the Pueblo people for introducing chile to what is now New Mexico. It opens with Young Eagle being smitten with Sage. They live in a Pueblo village along the Rio Grande, a time long before the arrival of Europeans. One evening Young Eagle's family visited Sage's. Her father declared that the corn and meat they eat are flavorless. "Friends who come from the south tell us that the Aztecs have chile, a fruit that makes food taste good," he states. That's his opening line in striking a deal with Young Eagle. The deal is this: If Young Eagle will retrieve chile seeds from the Aztecs, then he will permit Young Eagle to marry Sage.

Rudolfo Anaya's newest "how" book is a children's adventure story made to be read to them by adults. Before embarking on his dangerous adventure, Sage places a turquoise necklace around Young Eagle's neck to protect him from harm. Off on his quest the young man goes. Of course, he has obstacles to overcome. Like a whirlpool in a river, a giant vulture and a tumbling boulder that, thanks to the necklace's protective powers, misses Young Eagle. After passing through friendly tribes, he comes to the Valley of the Aztecs, where a clan chief tells Young Eagle that because he survived the dangers on his journey, he's earned the right to return home with a sack of chile seeds. The story has happy endings. Young Eagle returned safely home with the chile seeds for Sage's father. Sage and Young Eagle get the OK to marry. The cooked green chile and the dry red chile made the meals of the Pueblo people appetizing. After the story ends, the book has more to relate. It states that Spanish-speaking colonists, who found chile growing on Pueblo farms, had been using chile peppers from elsewhere in the world, but they learned to love the local chile, which has since become a food staple here today. For those reading the Spanish text, there's a glossary with New Mexico Spanish, standard use Spanish and English translation into colloquial/formal forms. — by David Steinberg, Albuquerque Journal