How Hollyhocks Came to New Mexico

by Rudolfo Anaya
with illustrations by Nicolás Otero and translation by Nasario García

47 pages 45 color illustrations; 8 x 10 ISBN 978-1-936744-12-1 ($24.95 hb)

Winner, Children's Fiction, National Federation of Press Women, 2013
First Place, Children's Fiction, New Mexico Press Women, 2013
Winner, Children's Book, Southwest Book Design & Production Award, 2013
Pablita Velarde Award For Outstanding Children's Book, Historical Society of New Mexico, 2013
Silver Finalist, Cover Design, Children's/Young Adult, Ben Franklin Book Awards, 2013
Finalist, Children's Picture Book, Hardcover Fiction, 2013 International Book Awards
Finalist, Best Interior Design, International Book Awards, 2013
Silver Medal Children's Illustrated Book (Grades 3-6), Nautilus Book Awards, 2013
Finalist, Best Latino Focused Children's Picture Book, International Latino Book Awards, 2013
Runner Up Children's Picture Book, Great Southwest Book Festival, 2013
Honorable Mention Children's Picture Book, DIY Book Festival, 2013
Honorable Mention Children's Picture Book, Hollywood Book Festival, 2013
Honorable Mention Children's Picture Book, New York Book Festival, 2013
Honorable Mention Children's Picture Book, Los Angeles Book Festival, 2013
Honorable Mention Children's Picture Book, Beach Book Festival, 2013
Honorable Mention Children's Picture Book, New England Book Festival, 2013
Honorable Mention Children's Picture Book, Paris Book Festival, 2013
Honorable Mention Children's Picture Book, San Francisco Book Festival, 2013




MidWest Book Reviews
Award-winning author Rudolfo Anaya and award-winning santero (painter and carver of religious art) Nicolas Otero combine their creativity and love for all cultures in How Hollyhocks Came to New Mexico, a bilingual English/Spanish picturebook that blends original folktale and Christian parable. Set at the beginning of the New Testament, How Hollyhocks Came to New Mexico tells how the family of Jesus Christ escaped King Herod's wrath when Sueno the angel flew them to New Mexico. There, they met the Pueblo people, and learned new ways of cooking and using herbs to heal the sick. Jesus aided the people when they were in need, and when the time came to return home, he and his family worked to assemble a ladder tall enough to summon Sueno's attention. "'I have something to do before we leave,' said Joseph. He planted his shepherd's staff into the ground. 'A gift to the people of this wonderful country,' he said... Summer rains came and colorful hollyhocks sprouted from Joseph's staff." A delightful fable of multicultural acceptance, beautifully illustrated in vivid color, How Hollyhocks Came to New Mexico is highly recommended.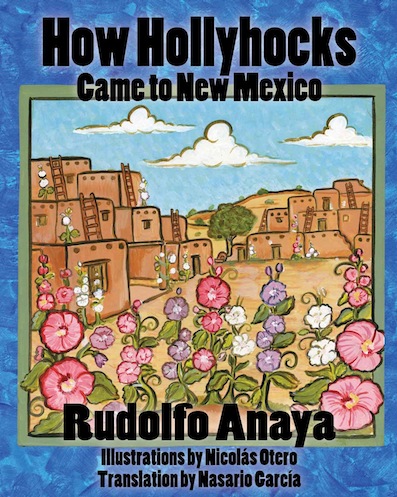 How Hollyhocks Came to New Mexico
is a fanciful folk tale that helps explain the beautiful flowers that can be seen in all parts of New Mexico in the summer and fall. Escaping Herod's wrath, Sueño, the angel, by mistake takes the Holy Family to New Mexico. Acclaimed author and teacher Rudolfo Anaya blends history in this tale that shows how different cultures can work together peacefully and respect the land we all need.

Rudolfo Anaya, the premiere Hispanic author, has won many awards including the National Endowment for the Arts Medal of the Arts Lifetime Achievement Award for his writing. He is a native New Mexican and has written many books for adults and children including: The Santero's Miracle, The Farolitos of Christmas, The First Tortilla, and the book that started it all, Bless Me Ultima.

Nicolás Otero, an award-winning santero (a painter and carver of religious art in New Mexico), exhibits in Traditional Spanish Market in Santa Fe as well as the Heard Museum Spanish Market in Phoenix. He teaches middle school art and lives in Los Lunas with his wife and new baby.

Nasario García, an award-winning author and teacher, documents oral histories of New Mexico. His latest books include Fe y Tragedias and An Indelible Imprint. He is a longtime friend of Rudolfo and lives in Santa Fe with his wife.