Grandma Lale's Tamales
A Christmas Story
by Nasario García with illustrations by Dolores Aragón

60 pp; 8 x 10 case laminate hard (58 illustrations)
ISBN 978-1-936744-26-8 $24.95 Bilingual, Ages 3 to 8


REVIEWS
"Enjoy all the wonder of New Mexico at Christmas time in this book. I would recommend this book to anyone who loves New Mexico." — New Mexico Kids Magazine


2016 International Latino Book Awards
2nd Place, Best Latino Focused Children's Book: Grandma Lale's Tamales by Nasario Garcia, illustrated by Dolores Aragon
2nd Place, Best Latino Focused Book Design: Grandma Lale's Tamales by Nasario Garcia, illustrated by Dolores Aragon

Winner, 2015 New Mexico-Arizona Book Awards, Children's Bilingual Picture Book and Best Cover Design, Finalist Multivutural Subject
Winner, 2015 Pablita Velarde Children's Book Award, Historical Society of New Mexico
Second Place, 2015 Children's Fiction, New Mexico Press Women Book Awards
Finalist & Honorable Mention, 2015 Best Latino Focused Children's Picture Book-Bilingual, International Latino Book Awards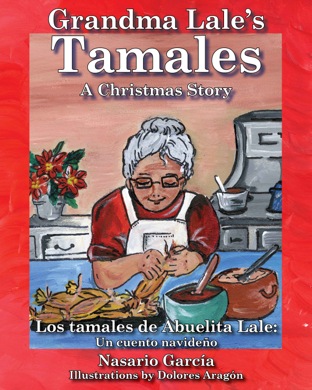 WEEKLY ALIBI:Grandma Lale's Tamales by Nasario Garcia
"Nasario Garcia is one of the best know folklorists in New Mexico," Hoffsis explained, "he's written a lot about oral histories, but lately what he's been doing is writing about his childhood." This lovely children's book, with vibrant illustrations, recipes and a small Spanish-English glossary describes his life growing up in the Rio Puerto Valley and his grandmother's fantastic tamales. "It's just a delightful book."


Tamales are one of the most important holiday traditions in New Mexico. But tamales can be made and eaten all year! This is the story of Junie López and his Grandma Lale. She is known for her tamales and Junie discovers all that goes in to a truly authentic tamale. Junie and his Grandma live in a small, Hispanic village in Northern New Mexico.

NASARIO GARCÍA is an award-winning author and teacher, who documents oral histories of New Mexico. His latest books include Grandpa Lolo and Trampa: A Story of Surprise and Mystery, The Talking Lizard: New Mexico's Magic & Mystery, Bernalillo: Yesterday's Sunshine Today's Shadows, Fe y Tragedias and An Indelible Imprint. He lives in Santa Fe with his wife.

DOLORES ARAGÓN is an award-winning Contemporary Hispanic Market artist as well as a judge for Expo New Mexico in Fine and Hispanic Arts. She lives in Peralta, New Mexico.