Between Two Countries: A History of Coronado National Memorial 1939-1990

by Joseph Sanchez, Bruce Erickson, and Jerry Gurule

356 pages, 16 photos

$32.95 softcover (ISBN 978-1-890689-18-6)


$19.95 softcover (ISBN 978-1-890689-41-4)



FINALIST, 2007 NATIONAL BEST BOOKS AWARDS
FINALIST, 2007 NEW MEXICO BOOK AWARDS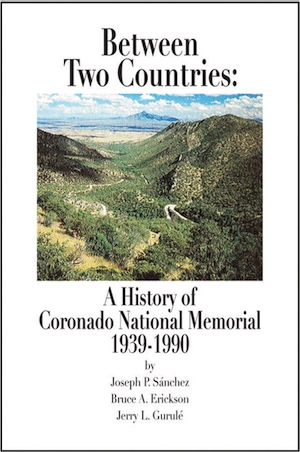 Between Two Countries: A History of Coronado National Memorial 1939-1990 is the inspiring story of a generation that sought to acknowledge the common history the United States shares with Mexico. The story began at a time when fact and legend intertwined to commemorate the 400th anniversary of the fi rst European expedition to traverse northwestern Mexico and the southwest of the U.S. In the end, two governments with different historical viewpoints agreed to disagree on the creation of an international monument with corresponding sites on both sides of the border. Congress offi cially established Coronado National Memorial in 1952 on the U.S. side of the International Boundary. The National Park Service took the reins to commemorate the harmonious relations with Mexico and the common history shared by citizens of both countries.
What People Are Saying:

The process of creating a national park is indeed intriguing. Between Two Countries reveals how the process worked in mid-twentieth century. This book presents the story of a grass-roots movement that became epic in proportion. The creation of Coronado National Memorial brought together ranchers, miners, bureaucrats from local, state and federal levels, governors, congressmen, and cabinet members from the Department of State and the Department of the Interior. This book is a must read for students, professionals, and the general public.—Manuel Lujan, former Secretary of the Interior and U.S. Congressman.
If anyone ever wondered about the role of individuals and community spirit as a hallmark of the American tradition, Between Two Countries demonstrates the American character at work. The amazing story is cast in the middle of the twentieth century when rural values were being subsumed by the lure of the city.This book is for those interested in National Park Service history.—Art Gomez, Historian, National Park Service
Between Two Countries serves as a treatise about relationships that have often been a source of misunderstanding between Mexico and the U.S. The history of the creation of Coronado National Memorial reveals the result of crosscultural differences and perspectives that emerged since the War of 1846 and Mexican historical-political experience that developed throughout the nineteenth century. This book is great reading for those who seek to understand United States-Mexico relations.—Robert Spude, Historian, National Park Service