Becoming a Part of My History

Through Images & Stories of My Ancestors
by Andres Armijo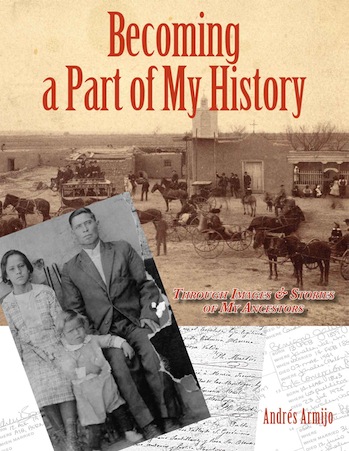 137 illustrations 68 pages

$29.95/PB (978-1-890689-75-9)


ORDER THE BOOK HERE!

A perfect model for anyone interested in knowing about themselves and their world through research into genealogy and photographic collections, this book is a personal journey into the author's past, but it is also a fascinating account of family life in New Mexico, neighborhoods in Albuquerque, the rites and rituals of Hispanos, how a family through the ages pictured itself, and how all this information and reflection enlightens the author. "Everything is Illuminated," while it educates and entertains the reader. This is an original and creative approach to personal and local history. This is a new take on the story of photography and genealogy as it focuses on the importance of the family.


ABOUT THE AUTHOR:

Beginning his career as a Spanish instructor at the University of New Mexico, Armijo has been on the UNM staff for the past fifteen years, working in academic programs. He has degrees in Spanish and Southwest Hispanic Studies.


COMMENTS ON THE BOOK:

Armijo's book is a new take on the story of photography in Nuevo México, the importance of familia. His critical exploration takes us beyond the snapshot to more fully understand it. The family album, and the shoeboxes of pictures, become a place where deep and compelling meanings can be found and recovered. Photographs that have been generally forgotten provide a unique window into the past. Armijo's book leads us into those images and helps us find new ways to examine the deeper meaning of New Mexico's rich visual history.—Miguel Gandert, Photographer and Professor of Communication and Journalism, University of New Mexico

One of the great truths in life is that to know what we've come from lets us know ourselves better and helps us determine where we're going. It is such a search that Andrés Armijo describes in Becoming a Part of My History: Through Images and Stories of My Ancestors. It is replete with charming anecdotes that remind us of our own family stories. It is enriched with photographs of several generations of family, a photographic genealogy rare in studies of one's ancestors. It can be enjoyed by anyone interested in their own and other families' histories. A gem of a book.—Nash Candelaria, novelist, short story writer


BOOK SIGNING:

Monday, November 8, 2010 -- 7pm Bookworks, 4022 Rio Grande Blvd NW, Albuquerque, NM
BOOK SIGNINGS

Book signings and events are listed as a master calendar. Check out the calendar by clicking the button below: