New Mexico's Finest
Peace Officers Killed in the Line of Duty, 1847-2010

by Don Bullis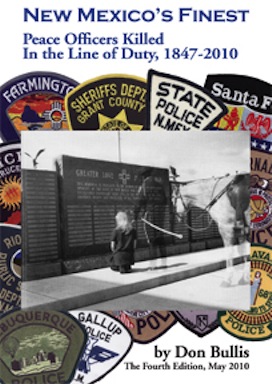 364 pages 112 illustrations

$19.95/PB (978-1-890689-69-8)


Nearly 200 men and women have died while working as peace officers in New Mexico since 1846, the year that New Mexico became a part of the United States. This book tells each officer's story.

A number of these law officers died in the violent days of New Mexico's frontier in the years between the end of the U. S. Civil War and the turn of the century in 1901. Among them were sheriffs, their deputies, town marshals and members of posses. Outlaws far outnumbered the forces of law and order, and lawlessness was a significant factor in keeping New Mexico a territory for two-thirds of a century (1846-1912). Since the beginning of the 20th century, officers have been assassinated, shot down in gunfights, and murdered in cold blood. Others have died in motor vehicle accidents of one kind or another (and one was run down by a cowboy on a horse), and while accidents are not as dramatic as gun-battles, they are equally as important.

The names of some law officers are familiar, like former Sheriff Pat Garrett who was assassinated in 1908 or State Police Officer Nash Garcia who was ambushed in 1952. Others are less well-known, like Taos County Sheriff Stephen Louis Lee who was killed during the Taos Revolt of 1847 or Sandoval County Sheriff's Sergeant Joe Harris who was killed by a career criminal in 2009.

Farmington Officer Victoria Chavez was the first female New Mexico peace officer to die in the line of duty. She was shot to death in 1992. Since then, others have met similar unfortunate fates.

Sheriffs and their deputies have suffered the greatest number of fatalities at 70; the New Mexico State Police Division of the Department of Public Safety is next with 30 officers killed in the line of duty since 1937. Among municipal police departments, Albuquerque is the largest, and has suffered the most on-duty causalities at 14 since 1886.

No matter the details, each of these officers is deserving of recognition, and commendation for offering up the ultimate sacrifice: his or her life.