A River Runs Through Us: True Tales of the Rio Abajo
by Richard Melzer & John Taylor
360 pages; 6 x 9 pb (134 photos) ISBN 978-1-936744-50-3 $21.95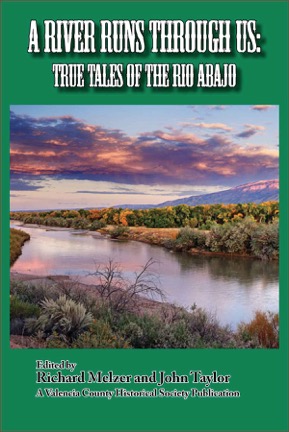 2016 Southwest Book Design & Production Book Awards
Finalist, Scholarly & Technical, A River Runs Through Us by Richard Melzer & John Taylor

2015 New Mexico-Arizona Book Awards
Winner Reference Book, A River Runs Through Us by Richard Melzer & John Taylor
Finalist Cover Design, A River Runs Through Us by Richard Melzer & John Taylor

The Rio Grande Valley south of Albuquerque, commonly referred to as the Rio Abajo, is a treasure trove of legends, stories, and characters. In Murder, Mystery and Mayhem, the first volume of this series, the readers were introduced to characters such as Bronco Bill Walters, Solomon Luna, and Jose Francisco Chavez. Readers joined in the chase for the Abo Canyon Gang, recoiled at the stories of airplane crashes, and anguished over the unsolved kidnapping of Tara Calico.
This volume, the second in the series, takes the reader on another 33 adventures in the Rio Abajo. You will meet a priest who served the same parish for 55 years, a movie star who never forgot her Valencia County roots, and a boxer known as "The Golden Boy." You will learn about the crosses atop Tome Hill and will meet the "muerto" of the notorious "Jornado del Muerto." You will experience the terror of the Pueblo Revolt, experience captivity at the hands of Hezbollah terrorist, and understand why Daniel Fernandez was awarded the Congressional Medal of Honor.
So, come and join us as we follow the Rio Grande through lives and events in another journey through the Rio Abajo.

ABOUT THE AUTHORS
Richard Melzer is a professor of History at the University of New Mexico-Valencia Campus. He is the award-winning author of fifteen books and many articles and chapters on NewMexico history. He is the past president of the Historical Society of New Mexico.

John Taylor is the author or co-author of four books on nineteenth century New Mexico. In addition, he has published numerous articles in various books and journals on Civil War and Catholic history topics. Retired from Sandia National Laboratories, he has lectured on the history of arms control.