The Jewish Legacy in New Mexico History
edited by Richard Melzer and Introduction by Noel H. Pugach

225 pages 80 illustrations; 6 x 9
ISBN 978-1-936744-46-6 ($19.95 pb)

A Publication of the
New Mexico Jewish Historical Society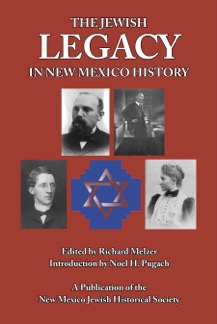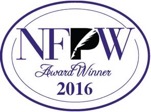 2016 National Federation of Press Women Book Awards
Winner, Nonfiction-adult History: "The Jewish Legacy in New Mexico History" edited by Richard Melzer

2016 New Mexico Press Women
First Place, History: "The Jewish Legacy in New Mexico History" edited by Richard Melzer

2016 Historical Society of New Mexico
Lansing B. Bloom Award for Outstanding Contribution to New Mexico History: "The Jewish Legacy in New Mexico History" edited by Richard Melzer

2015 New Mexico-Arizona Book Awards
Winner Religious Book, The Jewish Legacy in New Mexico History by Richard Melzer
Finalist Reference Book, The Jewish Legacy in New Mexico History by Richard Melzer




WEEKLY ALIBI: The Jewish Legacy in New Mexico by Richard Melzer

"This book is basically a complete history of Jewish involvement in New Mexico," John Hoffsis of Treasure House Books said of this anthology of articles collected in 30 years of work by the New Mexico Jewish Historical Society. This winner of the 2015 New Mexico-Arizona Book Awards "Best Religious Book" category is "very thorough" according to Hoffsis and provides excellent, sometimes overlooked, context on New Mexico's rich history.

The Jewish Legacy in New Mexico History, the New Mexico Jewish Historical Society's first book-length publication, draws from articles first published in the society's newsletter over the last thirty years.
The book's first section traces the history of three distinct Jewish communities: the conversos, Congregation Albert, and Congregation B'nai Israel. The book's second section describes the Jewish experience on the New Mexico frontier, with stories ranging from the life of a Jewish bride on the Santa Fe Trail to Jewish encounters with legendary characters like Billy the Kid. Section three includes chapters on Jewish businesses, especially trade and tourism in the 19th and 20th centuries. Section four covers World War II with chapters on topics ranging from Jewish refugees in New Mexico to Jewish contributions to the top-secret Manhattan Project at Los Alamos. A final section deals with Jewish social life, from fond memories of Albuquerque's Jewish communities in the post-World War II era, to final resting places in Jewish cemeteries.

Combined, the book's twenty-three chapters depict much of the Jewish experience in New Mexico. Although small in number (about 24,000 in a statewide population of 2,000,000), the state's Jewish residents have had—and continue to have—a large, important impact on New Mexico. They, along with Hispanics, Greeks, Italians, Native Americans, African Americans, and seemingly countless other cultural groups, have helped make New Mexico among the most diverse, interesting, and beautiful states of the American Southwest.

ABOUT THE EDITOR
Richard Melzer is a professor of History at the University of New Mexico-Valencia Campus. He is the award-winning author of fifteen books and many articles and chapters on New Mexico history. He is the past president of the Historical Society of New Mexico.