Villages & Villagers: Stories
from New Mexico Villages
by Abe Pena
264 pages, 58 photographs/illustrations
$18.95 softcover (ISBN 1-890689-80-3)

$32.95 hardcover (ISBN 1-890689-90-2)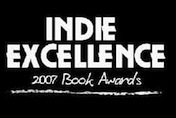 2007, FINALIST, NEW MEXICO BOOK AWARDS
FINALIST 2007 BEST BOOKS USA BOOK NEWS
2007 FINALIST, BIOGRAPHY BOOK, INDIE EXCELLENCE BOOK AWARDS
2007 THIRD PLACE NONFICTION, HISTORY, NEW MEXICO PRESS WOMEN COMMUNICATIONS AWARD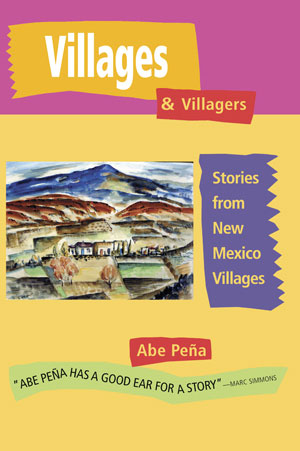 Abe Peña will transport you again to a Hispanic New Mexico village in the Land of Cíbola. Here are 71 more stories that pick up where the best-seller Memories of Cíbola left off. Peña's stories of the people and places in Cíbola speak to such universal themes as coming of age, striking out on one's own, and joining family and neighbors to celebrate good times and to aid them in overcoming hardships. He shares with us a remarkable cross-section of humanity. Marc Simmons, the noted historian and author, says,"Abe Peña mines his own extensive body of personal experiences and the experiences of native folk he has known during his early days on sheep ranches in western New Mexico. His memory of times gone by is sharp, and he shines as a keen observer of the human condition. The people and events he sketches have a timeless quality about them, leading the reader to slip easily into another world and a different age. As a book that will both entertain and inform, this adds to our understanding of the New Mexico that is now but a fading memory." Abe Peña ran the family ranch for many years before serving twelve years in Latin America in various foreign service positions.


REVIEWS
An enjoyable follow-up to his Memories of Cibola, Villages & Villagers takes one back to a time that no longer exists. Abe Pena's memories, interviews, and relationships have allowed him to put pen to paper and create these tiny glimpses of his life in San Mateo, New Mexico. Each section of the book melts smoothly into the next. ... The book makes one yearn for simpler times. Many folks who grew up in this area wil lenjoy reading this charming book. --
New Mexico Historical Review
, Spring 2008

I placed for you on a table,
a bouquet of flowers.
Maria, don't be ungrateful,
Give me your love.
This charming and gentle song is one that the author remembers being sung--among many tunes-- in his village. The author's first collection, Memories of Cibola, tells tales of Pena's childhood on his family's sheep ranch near Grants from the 1920s to 50s. Now Pena has followed up the success of his first volume with Villages & Villagers: Stories from New Mexico Villages.
Reading this book is like rummaging through an old jewelry box full of treasures, or finding a hidden shoebox of photographs and mementos. One story leads to another in a kind of treasure hunt. Each essay serves as a mini-meditation on a theme. It is often a homey subject, such as chicos, the tasty corn in the husk eaten in pueblos and villages across New Mexico. The first section is on "Villages," the second on "Villagers," then "Ranching" and the final section is titled "Change Comes to the Villages." This is on portraits of people and anecdotes, which are among the book's liveliest bits.
There is "Uncle Pat," who received a beautiful Navajo rug from his father-in-law with the instructions to sell it if anything went wrong with the newlywed's marriage, and to send the bride back to her family. We meet people from priests to politicians to prizefighters to family members to just plain folks--not just in the prose but also in the numerous black-and-white photographs that adorn the text. These are fascinating archival images, which despite their formality speak of people and times gone by.
The change that comes to the villages may not be unadulterated progress--the last section takes us to the events of Sept. 11--but change is accepted as part of life, from airplanes to the changes in the author's life that took him to Latin America. Although the old-timers may say, "No es como mas antes-- it isn't like it was"--the author takes a gentle philosophic look at times both past and present. A section on the Anasazi--who built, lived and disappeared--makes a strong addition to this section with its discussion of Chaco Canyon and local outliers. There is a useful glossary of Spanish terms at the end. The book preserves a lot of lore and memories of a way of life, and it is also simply enjoyable reading.--
New Mexico Magazine
, June 2007
For many readers of La Herencia, the name of Abe Pena will be familiar because he has written many articles for this magazine. This is Pena's second book on the Cibola area, which today includes the counties of Cibola and McKinley in west-central New Mexico. His first work about the area, Memories of Cibola, was widely read. In his new book, Villages and Villagers, he includes events that occurred in the 19th century and were related to him as stories. The 72 vignettes, first published as columns in the Grants Daily Beacon, are organized into four parts. The first gives a brief history of the area and events such as the cycle of fiestas, the games young people played, the foods harvested and villages that came into existence and then were deserted as people migrated out of the area
.
In the second part, the author writes about interesting people who played a role in the life of the area or affected the author personally. The third deals with ranching, especially sheep ranching, which the author was involved in. His stories relate the arrival of families who began to homestead or buy land in the area. It also includes ones about priests who had served in the area and were later suspended by Archbishop Lamy.
The last section recalls some of the events and modern cultural elements that changed village life. World War II intrudes, the airplane arrives in the area and the author and his family head to Latin America, where he serves in the Peace Corps for 12 years. The book ends with the tragic events of 9/11.
Though the topics could have been better organized, and a genealogy of his family would have been helpful, because the book consists of vignettes connected to the area and/or to the author, the book flows well. Pena is a gifted storyteller and writes in clear prose. He has preserved the stories of his villages. It would be of great value if every village or town had such a chronicler to preserve its history.-
-La Herencia Magazine
, Summer 2007
In the villages we get up early. Old timers used to say, 'Nos levantamos con las gallinas.' We get up with the chickens," the author writes. Residents and ex-residents of northwestern New Mexico will probably recognize, or even share, many of the names of those who settled the small town of San Mateo. In this, his second book, native-son Peña enriches and deepens the story of a band of pioneers who, in 1800, undertook the trek from the settlement of Albuquerque across wild country to occupy a land grant in what was essentially Indian country.
With the help of the U.S. Army, the area designated as the "Merced de Cevolleta" was settled by its thirty grantees, and just about the time Seboyeta was becoming a center of growth, a few families, attracted by vast grasslands on the side of Mount Taylor, gradually developed both sheep and cattle ranches. This later exodus collected settlers from the new area to form the village of San Mateo, the origin of most of the tales in the new book.
There's no quicker way into the heart of a culture than to hear it retold in the voice of someone who's been steeped in it since childhood, and former rancher and foreign service officer Peña has just that voice. Inserted throughout the book, stacks of photos back up his story to illustrate not only the life and times of the author, but chronicle a way of life and the changing environment that supports it.
Any story that follows the development of a new community, from its first straggling pilgrims, through the establishment of schools, local government, and plans for work and recreation, is going to have its sorrows, its minor and major tragedies, and its petty squabbles, but on the whole this is a jolly book, and among its jolliest parts are the many "dichos" (pithy statements in traditional language, often rhymed) bandied about daily by the population and often quoted in the local news, a custom with Hispanic roots that creates laughter with a touch of wisdom and often a heavy dose of sarcasm.
Early in the book there's a chapter devoted to local usage, which sets a tone that pervades daily life, family values, and a community level that combines respect for everyone and a humorous approach to the fallibility of personal endeavor. "No hay atajo sin trabajo (There's no herd without sweat)" warns that ranching doesn't just happen, and that "de los dos no se hace uno" (referring to the fact that two incompetents don't add up to one good worker)." These "dichos" are part of daily life wherever Spanish is spoken, with a history that extends back beyond Ferdinand and Isabella and will no doubt carry forward a love of life and language to the last Hispanic community on the last frontier in the world. --
ForeWord Magazine
, May/June 2007
Longtime Prime Time readers will remember Abe Pena's easy, warm, down-to-earth narratives of the world in which he grew, learned, married, ranched and observed his neighbors. Many have read
Memories of Cibola
, his first, respected book. Now Rio Grande Books in Los Ranchos has reprinted that volume and Abe's latest work,
Villages & Villagers
. I have read only Marc Simmon's foreword, in which--after describing Abe as storyteller, folklorist and historian-- he writes that Abe "shines as a keen observer of the human condition." Don't wait for me-- pick up one or both.--Arthur Alpert,
Prime Time
, March 2007.
ABOUT THE AUTHOR:

Abe Peña writes about the people of San Mateo and other nearby places from the 1920s to 1950s. Pena, who lives in Grants, grew up on a sheep ranch near San Mateo, immersed in the traditional Hispanic culture of west-central New Mexico. He ran the family ranch for many years before serving 12 years in Latin America in foreign service positions. Pena writes about traditional events such as Los Pastores, the shepherds' pageant performed at Christmas time. He remembers Spanish-speaking Lebanese immigrant children who proudly proclaimed, "Yo soy Mexicano, casi" (I'm Hispanic, almost). He tells of villagers who in a drought paraded a statue of their patron saint in hopes of rain. When hail fell instead, they took him out of the church again to show him "the mess he made." "Peña has a good ear for a story," says historian Marc Simmons, who wrote the book's introduction. "The engaging men and women who walk so freely through his pages seemed infused with the elixir of southwestern air and landscape and with the tonic of their own vibrant cultural history."


WHAT PEOPLE ARE SAYING ABOUT ABE PEÑA

"Abe Peña has a good ear for a story." —
Marc Simmons
"One can do no better than Abe Peña's vignettes of life."—
Alibi
"A master storyteller, Peña captures the mood and the spirit of yester-year as he weaves his tales about the daily lives of Cíboleros."—
New Mexico Magazine