The Complete Space Buff's Bucket List

by Loretta Hall
126 pp; 5 x 7 paperback (124 illustrations)

ISBN 978-1-943681-01-3 $15.95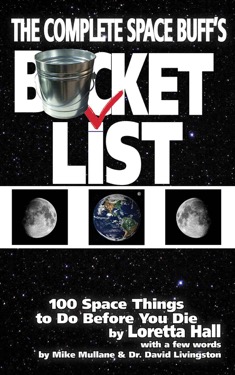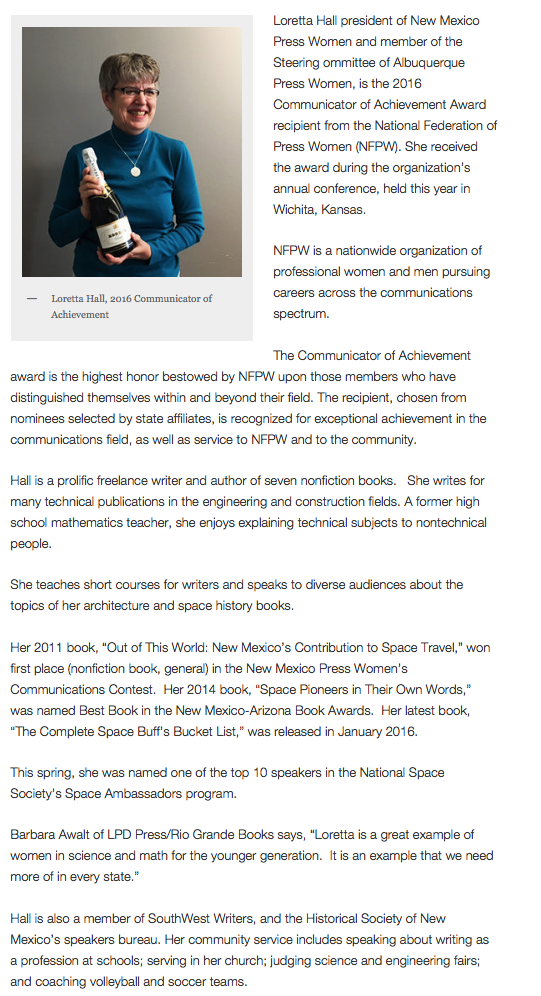 Review: The Complete Space Buff's Bucket List (The Space Review Feb 1, 2016)

by Jeff Foust
At some point in recent years, the idea of a "bucket list" came into vogue. The idea is to draw up a list of things to do—places to visit, books to read, and so on—before you die. On the one hand, the concept of a bucket list sounds a little morbid: who wants to think about death? On the other hand, though, the creation of a bucket list can help focus the mind and prioritize what is really important.
For those with a particular interest in such lists, The Complete Space Buff's Bucket List offers a ready-to-go list of space-related activities for space enthusiasts. The book counts down the list of activities, which range from reading books and watching movies to (at number one) going into space.
The book casts a pretty broad net of activities in its list. Some involve little more than visiting a web page, such as one for a "virtual tour" of a NASA center. Others involve actual trips to museums, launch sites, and the like. Still others are more ambitious, and expensive, like skydiving and astronaut training.
While many of the activities are in the core of spaceflight, others seem tangentially related, at best. Besides the skydiving example (which includes an "indoor skydiving" activity as well), one activity is to eat at a "Space Aliens Grill & Bar" in North Dakota or Minnesota, where they serve "Martian Munchies" and "Spaceship Supreme Pizza." Another activity is to have a star named after you through the International Star Registry, a company whose names have no official influence and which is viewed unfavorably by most professional astronomers.
Still, there are some gems in this brief book (each of the 100 items gets one page, consisting of a paragraph or two plus a photo.) Not only does it suggest buying meteorites, it includes an entry for learning how to search for them yourself. It also includes some citizen science activities, like searching for particles in aerogel from NASA's Stardust mission.
Out of curiosity, I went through the list of 100 items and checked off those I had done, in one form or another (I counted, for example, the activity of a virtual tour of NASA Goddard even though I hadn't taken that specific tour, having been at the center in person many times.) It turns out I've done nearly two-thirds of the activities on the list. It's unlikely I'll complete the list any time soon: I have little interest in, say, touring the UFO museum in Roswell, New Mexico, or learning Klingon. And it's highly unlikely I'll be going to space for the foreseeable future, given the prices of even suborbital spaceflights versus the size of my bank account. But that's fine: I don't plan to be kicking the bucket any time soon, I hope.

Jeff Foust (
jeff@thespacereview.com
) is the editor and publisher of The Space Review, and a senior staff writer with
SpaceNews
. He also operates the
Spacetoday.net
web site. Views and opinions expressed in this article are those of the author alone.
Review: Leonard David's INSIDE OUTER SPACE

Maybe it's my old age setting in. But a new book just showed up in my mail box that is so timely.
Loretta Hall has authored
The Complete Space Buff's Bucket List – 100 Space Things to Do Before You Die.

What a romp! And as she notes herself – it's all "tourific."
Hall is a New Mexico-based freelance writer and nonfiction author. The book is the fourth in the Rio Grande Books "Bucket List" series – so why not space!
Hall took on the challenge and has written an absolutely delightful volume for confirmed space aficionados and others that are on the cusp of being space adventurers.

Range of intellectual and physical activities

"I have discovered many new things to do and see," Hall writes in the opening pages of the book. Adds David Livingston, host of The Space Show: It's an "excellent list of exciting and worthwhile things to do in your lifetime, either alone or with your family and friends."
Points out former shuttle astronaut, Mike Mullane: "I now have a new resource to map my way back into space."
Most items on this Bucket List include URLs for websites associated with listed items.
"I wanted to give you an idea of the order of magnitude for planning and comparison," Hall writes. "Together, the 100 items on this list encompass a broad range of intellectual and physical activities that involve all five senses."
This is an easy read with 100 bucket list suggestions, including stops at a planetarium, a visit to a meteor crater, indoor skydiving, and a way to experience human factors training for commercial spaceflight.

Before heavenly ascension

The countdown for fun starts at #100 in the book. Subsequent pages lead to Hall's number one slot. I won't tell you what that is, but you'll likely agree.
Hall also recently wrote
Space Pioneers: In their Own Words
, also published by Rio Grande Books.
This is a welcomed, creative, and pleasurable book for all ages – or those of us trying to quickly assemble our personal bucket list of to-do items before heavenly ascension. No worries. The book incorporates a blank list in the back of the book to write down your favorites too!

Now Available at:
Treasure House Books - Old Town Albuquerque
Walgreen's at Juan Tabo & Montgomery, Albuquerque
UPS Store at 4th St, Albuquerque
Page One Books, Albuquerque
Avila Shops, Airport, Albuquerque
Bookworks - Albuquerque
La Plata Gifts, Albuquerque
Rio Grande Trading Co, Albuquerque
Sandia Tram Gift Shop, Albuquerque

Home At The Range - Bernalillo
Under Charlie's Covers Bookstore, Bernalillo

Chama Trading Post - Chama

Butler's Supply, Gallup
Richardson's Trading Post, Gallup

Little Shop, Los Lunas
Branch Coffee House, Los Lunas
Museum of Heritage & Art, Los Lunas

Studio 14 - Madrid

Tinkertown Museum - Sandia Crest

Garcia Street Books - Santa Fe
Museums of New Mexico Shops, Santa Fe
Op Cit Books, Santa Fe

Collected Works, Santa Fe

Silver City Museum Gift Shop, Silver City

The Space Buff's Bucket List
The Complete Space Buff's Bucket List book is fourth in the Bucket List book series. Of course it talks about the usual things like great museums, planetariums, astronauts, space suits, rockets, planets, and stars. But it also has duct tape, Tang, Cosmos, movies, space burial, Astronaut Ice Cream, Biosphere, aliens, and the Meteorite Crater. Each Bucket List book is dedicated to an appropriate non-profit and this book highlights The National Space Society. If you have things on your bucket list that are not in this book, no fear, because there is a blank list in the back of the book. This book is a fun and light space book that will appeal to astronauts everywhere.


What People are Saying about this Book

"As a space shuttle astronaut, I was blessed to experience space from a very unique perspective. But my passion didn't end at the last "Wheel Stop" call. As it is for many of us, there's a gene in my Being that continues to command me to look up and wonder. With The Complete Space Buff's Bucket List I now have a new resource to map my way back into space." — Mike Mullane, NASA Astronaut (Ret.), Author of Riding Rockets: The Outrageous Tales of a Space Shuttle Astronaut

"Loretta's The Complete Space Buff's Bucket List: 100 Space Things To Do Before You Die is an excellent list of exciting and worthwhile things to do in your lifetime, either alone or with your family or friends.… I recommend this book and the magical 100 items on the list for everyone regardless of age, space experience, or knowledge. — Dr. David Livingston, Host of The Space Show