The Complete Santa Fe Bucket List

by Patricia C. Hodapp
126 pp; 5 x 7 paperback (125 illustrations)

ISBN 978-1-943681-09-9 $15.95


REVIEWS
The Complete Santa Fe Bucket List Book has been getting several reviews lately including:

NEW MEXICO MAGAZINE (November 2016) — "Director of the Santa Fe Public Libraries, Hodapp clicks through laundry list of ways to live like a local, including the obligatory stops at museums and popular restaurants. Along the way, she also drops readers into places with WPA-era art, contemporary statues, and historical markers, like Billy the Kid's brief incarceration near the Plaza."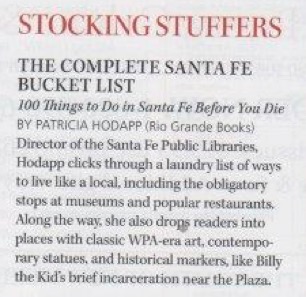 ALBUQUERQUE JOURNAL (June 12, 2016) — "a personal and universal compendium of things to see and do in the City Different before you die."
ALBUQUERQUE JOURNAL (June 10, 2016 — "when you reach the point in life when there are fewer years in your future than there are in your past, the concept of a bucket list becomes increasingly intriguing."
THE SOUTHSIDER (Spring 2016) — "a must-have book on Santa Fe. You will delight in her choices . . . Reading this book will give you an appreciation for the many cultural pleasures of all sorts that our city has to offer and that we often take for granted. This little gem of a book … is warmly endorsed and recommended by author Anne Hillerman."
SANTA FE NEW MEXICAN (June 10, 2016) — "This is a love letter to Santa Fe."
FRIENDS (June 2016) — "Very much in the travel genre popularized in the early 2000s featuring must-do experiences and must-see locations for a lifetime."

The Santa Fe Bucket List
The Complete Santa Fe Bucket List Book is the fifth in the series of Bucket List books by Rio Grande Books. Patricia C. Hodapp, Director of the Santa Fe Library, lists all of the Santa Fe events, places, and distinctive fun that makes The City Different one of the greatest tourist locations in the U.S. There are 100 things that she thinks are noteworthy including: green and red chile; El Rancho de las Golondrinas; sunsets; blue skies; art of Hispanics, Native Americans, and Anglos; museums; Canyon Road; and the Plaza.


What Other People Are Saying About This Book . . .

Pat Hodapp's Santa Fe Bucket List makes me smile and reminds me of many of the reasons I love Santa Fe. Hodapp combines a librarian's obsession for getting things right with her passionate, on–going love affair with her adopted home town. This gem of a book offers unique and valuable suggestions for visitors and locals, things to see and do for all ages, in all price ranges, throughout our fascinating ancient city. Her recommendations include places to eat – one of my personal favorite ways to explore any city. Written with witty prose and honest personal insights, this useful little guide combines fun and facts in a delightful way. I highly recommend it. – Anne Hillerman

BOOK SIGNINGS
Thursday, June 9, 2016, 6-8pm — Collected Works Bookstore, Santa Fe, NM
Sunday, June 12, 2016, 2-4pm — Santa Fe Main Public Library Community Room, Santa Fe, NM
Saturday, July 9, 2016, 2-4pm — Treasure House Books, 2012 S Plaza NW, Albuquerque Old Town
Sunday, July 17, 2016, 3-4pm — PageOne Books, 5858 Eubank NE, Albuquerque, NM
Saturday, November 12, 2016, 1-3pm — op cit Bookstore, De Vargas Mall, Santa Fe, NM