Startin' the Fire

by George Hensler



Finalist, Cook Book, New Mexico-Arizona Book Awards, 2010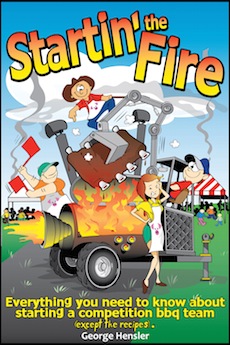 100 pages 26 illustrations 5-1/2 x 8-1/2
$12.99/PB (978-1-890689-14-8)


The complete guide to starting your own competition bbq team, from your initial idea to cooking in your first full contest. It covers preliminary considerations, planning, equipping, set-up, and running your own team.

George has gone where no other has before... he tells you how to compete in barbecue competitions. His book is a great read for anyone thinking of competing and for those already on the circuit. It's informative and funny!
Mike Stines, Ph.B., Author of
Mastering Barbecue


I've cooked on a few teams in my time on the circuit, but we never had this kind of organized approach. Now that I have George's book, my next team will have a good plan to follow and we won't be stabbing each other with barbecue forks!
Ray Lampe, a.k.a. "Dr. BBQ," Author of five barbecue books including
The NFL Gameday Cookbook

A masterful yet fun journal that will teach avid barbecuers the ins and outs of competition bbq; a must-have handbook for anyone who wishes to join the ranks of the bbq world's best practitioners.
Rick Browne, Host of the PBS-TV show
Barbecue America
and author of
The Best Barbecue on Earth


ABOUT THE AUTHOR:
George Hensler, head cook and founder of the "Who Are Those Guys?" BBQ cook team from Street, Maryland, is a monthly columnist for both the
Kansas City Barbeque Society Bullsheet
and the
National BBQ News
. He is also a contributor to
Smoke Signals
. In the process of starting his own bbq competition team, he and his crew have received several honors for brisket, chicken, beef ribs and overall team competition.