Atrisco to Zena Lona

A Snappy Survey of Selected Albuquerque Street Names
by Judy Nickell


Finalist, Reference Book, New Mexico-Arizona Book Awards, 2013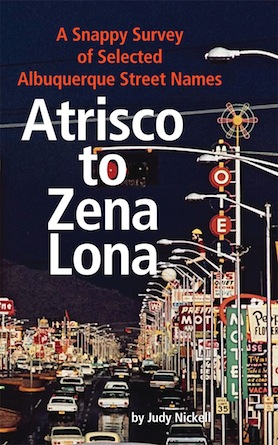 110 pages

$14.95/PB (978-1-890689-74-2)
$23.95/HB (978-1-936744-09-1)


Want to know something about the story behind
Albuquerque's street names—

Who are they named for and why?
How do you pronounce the names?
What do they mean?
What's the largest street name in Albuquerque's history?





Many people were interviewed for this book; research began when the author was a columnist for a local newspaper. People would call to ask for the origin of one street name or another. This provided the germ for this book. Research continued with further interviews of developers and others responsible for naming streets.
In addition to stories of street names, the book lists certain categories of street names, such as animals, birds and flowers. There is a concise explanation and pronunciation of Spanish names.
This "snappy survey of selected Albuquerque street names" is not a doctoral dissertation, but rather fun reading for anyone living in or visiting New Mexico's biggest city.

ABOUT THE AUTHOR
Judy Nickell, a professional writer, began her career as a reporter for the Albuquerque Tribune. There she covered a variety of beats. She wrote the Q&A column from the 1970s through the 1980s, where this book originated. She also wrote a garden column. She is a Master Gardener and a Certified Arborist. Her book, Enchanted Gardening, is out of print.
Bilingual from childhood, Judy is often bothered by improper use of Spanish on street names.