The Basic New Mexico Bucket List

by Barbe Awalt
126 pp; 5 x 7 paperback (124 illustrations)

ISBN 978-1-936744-25-1 $15.95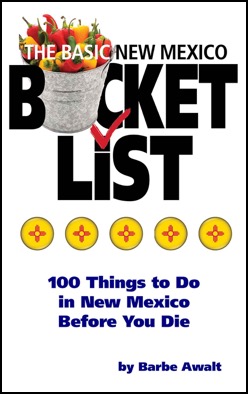 2016 New Mexico Press Women

Honorable Mention, Travel Book
: "The Basic New Mexico Bucket List" by Barbe Awalt


2015 New Mexico-Arizona Book Awards

Winner Travel Book
, The Basic New Mexico Bucket List by Barbe Awalt

Winner Cover Design,
The Basic New Mexico Bucket List by Barbe Awalt
Now Available at:
Treasure House Books - Old Town Albuquerque
Walgreen's at Juan Tabo & Montgomery, Albuquerque
UPS Store at 4th St, Albuquerque
Page One Books, Albuquerque
Avila Shops, Airport, Albuquerque
Bookworks - Albuquerque
La Plata Gifts, Albuquerque
Rio Grande Trading Co, Albuquerque
Sandia Tram Gift Shop, Albuquerque

Home At The Range - Bernalillo
Under Charlie's Covers Bookstore, Bernalillo

Chama Trading Post - Chama

Butler's Supply, Gallup
Richardson's Trading Post, Gallup

Little Shop, Los Lunas
Branch Coffee House, Los Lunas
Museum of Heritage & Art, Los Lunas

Studio 14 - Madrid

Tinkertown Museum - Sandia Crest

Garcia Street Books - Santa Fe
Museums of New Mexico Shops, Santa Fe
Op Cit Books, Santa Fe

Collected Works, Santa Fe

Silver City Museum Gift Shop, Silver City

EVENTS/SIGNINGS
October 10, 2015, 4-6pm — Page One Books, 5858 Eubank, NE, Albuquerque — featuring "The Complete Cowboy Bucket List," "The Basic New Mexico Bucket List," and "The Ultimate Hot Air Balloon Bucket List."

New Mexico is so much more than chile or the Balloon Fiesta. It is art, Hispanic traditions, turquoise, Native American history, cowboys, museums, and adventure. This is one person's bucket list. It is a place to start on your own bucket list in New Mexico. Because this is a hi-tech world, many of the items have a website to get more information for your own adventure. You can even fill out your own 100 places to see in New Mexico. Enjoy New Mexico! It is like coming to another world.


New Mexico Governor Susana Martinez: "I look forward to completing the entire bucket list."

The Independent: "Awalt's latest takes both visitors to the state as well as long-time New Mexicans on a tour of 100 things that make New Mexico what it is." June 6, 2015

SERIES INFORMATION

The Basic New Mexico Bucket List book is the first in the series of Bucket List books. The Complete Cowboy Bucket List Book by Slim Randles, The Ultimate Hot Air Balloon Bucket List Book by Barbe Awalt (to be released during Balloon Fiesta), The Complete Space Buff's Bucket List Book by Loretta Hall, The Complete Shopping Bucket List Book by Barbe Awalt are all scheduled for release in 2015 and 2016.

ABOUT THE AUTHOR

Barbe Awalt is the Senior Partner at LPD Press/Rio Grande Books. She is also co-founder of the New Mexico Book Co-op and the New Mexico-Arizona Book Awards. She has won many awards for her books and community involvement including the Mother Teresa Award. This is her 16th book.