Mary Donoho:
First Lady of the Santa Fe Trail
25th Anniversary Edition
by Marian Meyer

157 pages 28 illustrations; 6 x 9
ISBN 978-1-943681-11-2 ($16.95 pb)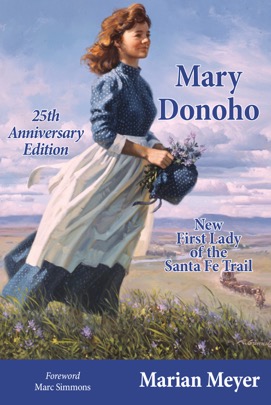 "Susan Magoffin was long believed to be the first American white woman to travel the [Santa Fe] trail. But Santa Fe historian Marian Meyer discovered in 1987 that Susan had been preceded by a trader's wife 13 years earlier. 'Mary Donoho, 25 years old, arrived in Santa Fe in 1833, with her husband William and a nine-month-old daughter,' Marian said. 'They were with a party of 150 Missourians and great wagon train of freight…'"—From The National Geographic, March 1991.

Marian Meyer wrote the story in 1991 of Mary Donoho who was the first woman to survive the rugged and grueling crossing of the Santa Fe Trail in 1833. Mary Donoho, "the new first lady of the Santa Fe Trail" was a woman of uncommon substance who lived in Santa Fe until the 1837 Perez Rebellion and then moved with her husband to Clarksville, Texas. After the death of her husband, Mrs. Donoho ran the 'legendary' Donoho Hotel in Clarksville, Texas, and raised her six children. Mary Donoho's life lives up to the image of the undaunted pioneer woman of the past.
For the 25th anniversary of the release of the first edition, Marian Meyer's daughter Joni Stott and Mary Donoho's great-great grandson George Donoho Bayless have worked tirelessly to update the original text for the book with new information on the family history.


BOOK SIGNINGS

April 16, 2016, 2-4pm — Treasure House Bookstore, 2012 S. Plaza, NW, Old Town Albuquerque, NM
May 22, 2016, 2-4pm — Garcia Street Books, 376 Garcia Street, Santa Fe, NM
June 4, 2016, 1-3pm — op cit Books, DeVargas Mall, Santa Fe, NM