Wake For A Fat Vicar
by Fray Angelico Chavez & Thomas E. Chavez
ISBN 1-890689-06-8 -- $25.95
224 Pages, 18 b/w photos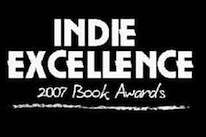 2007 FINALIST, HISTORY BOOK, INDIE EXCELLENCE BOOK AWARDS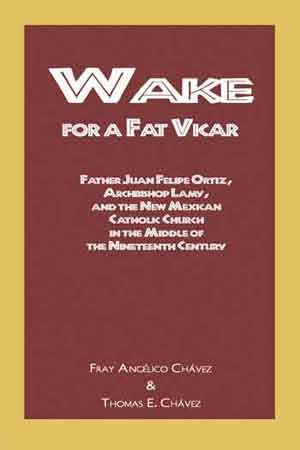 DESCRIPTION
This is the third and final chapter of the trilogy started by Fray Angélico Chavez in 1981 on the three Hispanic leaders of the Catholic Church in New Mexico in the middle of the nineteenth century — Padres Martínez, Gallegos, and now Ortiz. This is also the last book by Fray Angélico. In the last years of his life, Fray Angélico asked his nephew, Thomas, to finish this project. This is the story of Padre Juan Felipe Ortiz and his church at a crucial time in the history of New Mexico. It is also the message, ideas, and words of Fray Angélico Chávez, with the gentle assistance of his nephew Thomas E. Chávez.
This is the last book by Fray Angélico Chávez, but it is the first by Chávez y Chávez.
THE AUTHORS

Fray Angélico Chávez is considered New Mexico's most renowned Hispanic literary figure. Before his death in 1996, he had published twenty-two books of fiction, poetry, translation, and history. Thomas E. Chávez, the former director of New Mexico's state history museum and currently the director of the National Hispanic Cultural Center, is the author of a half-dozen books on the history of New Mexico, including The Illustrated History of New Mexico, Quest for Quivera, and Spain and the Independence of the United States.


REVIEWS
This is a most interesting read not only becasue of the colorful story, the people and the times, but also because of its historiographical vigor and vividness. History is important when it is true to the sources from which it is creatively written. Prejudice is not a lovely word, nor is it a lovely perspective. In completing this final volume of his deceased uncle's revisionist trilogy about the Catholic Church in the nineteenth-century New Mexico, and three of the prinicpal native clergy in that story, the author has offered a history which suggests that bias, historical and otherwise, intentional or unintentional, is an easy temptation, but withal a transparent and vulnerable temptation: Let's look at the sources! --
Catholic Southwest, A Journal of History and Culture
, Volume 17, 2006
Wake for a Fat Vicar
tells the story of Fr. Juan Felipe Ortiz and his jurisdictional disputes with Bishop Jean Baptiste Lamy and Lamy's vicar, Joseph Machebeuf. Chavez and Chavez seek to overturn the standard interpretation of Ortiz as an obstinate and corrupt man who selfishly resisted losing his leadership post among Catholics in New Mexico. More than a biography, this book is a rejoinder to the Anglo-centric historiography that commonly portrays mid-nineteenth-century New Mexico Catholics as hopefully superstitious and ignorant.
The authors convincingly show that Lamy and Machebeuf arrived in New Mexico from France in 1851 more disposed to believe descriptions of New Mexico written by anti-Catholic or racist Americans than they were willing to learn about the region from its own inhabitants. Machebeuf was by far the worst in this regard, and he emerges as the real villain. Lamy, on the other hand, suffered mainly from Machebeuf's unscrupulous counsel. The authors argue that Ortiz's pride did not cause the clash between Lamy and Ortiz, which culminated in the latter's loss of his beloved parroquia [parish]. Rather, the conflict originated in a series of misunderstandings involving New Mexico's new canonical status, unprecedented diocesan property regulations, Lamy's lack of appreciation for New Mexican traditions, and Machebeuf's dishonesty and ethnocentric attempts to Europeanize New Mexican Catholics.
Chavez and Chavez succeed in thoroughly revising the character of Ortiz. In so doing, they accuse other historians of intentionally ignoring evidence in a conspiracy to praise Lamy and denigrate Ortiz. Unfortunately, they opt for the other extreme and are eager to believe the best about Ortiz and the worst about Machebeuf. For example, after debunking one writer's stories about Lamy and Ortiz as unreliable hearsay, the authors then accept his criticisms of Machebeuf at face value. Even as they conclude that Machebeuf's contempt for New Mexicans and Lamy's cultural ignorance caused the conflict with Ortiz, the authors fail to assess the degree to which this quarrel arose from reluctance on the part of Ortiz and other New Mexican priests to adapt to their state's new diocesan structure.
Readers looking for pithy anecdotes and a departure from past negative portrayals of Ortiz and nineteenth-century New Mexico will be pleased with
Wake for a Fat Vicar
, but those hoping for a balanced and nuanced portrayal of this important period in the life of New Mexican Catholicism will be disappointed. --
Western Historical Quarterly
, Summer 2005


Wake for a Fat Vicar
is the third book in a series of publications about the Hispanic clergy of New Mexico and Archbishop Lamy. The state's foremost historian, the late Fray Angélico Chávez, prepared the first two.
Wake for a Fat Vicar
is a collaborative effort between Fray Angélico and his nephew, Tom Chávez, currently the director of the National Hispanic Cultural Center in Albuquerque, N.M.

Wake for a Fat Vicar
decries the difficulties that the Catholic clergy of New Mexico faced with the arrival of Archbishop Lamy. In the earlier two publications Fray Angélico calmly describes how Archbishop Lamy often abused and almost destroyed the Hispanic clergy of New Mexico. The two earlier books are must reading. Father Chávez delicately describes the brutal manipulation that the Hispanic Catholic Church was subjected to under Lamy.

Wake for a Fat Vicar
referes to, of course, don Juan Felipe Ortiz from Santa Fe. Much of this new book by Chávez and Chávez brilliantly and repeatedly demonstrates how the New Mexican Catholic Church was not leaderless before the arrival of Lamy, as many armchair scholars would have us believe. Two Durango bishops came to New Mexico before Lamy: Pedro Tamarón y Romeral in 1760 and the second, and better known, Bishop José Antonio Laureano Zubiría, first in 1833 and later in 1845.
The distance from Durango, Mexico, to Santa Fe, N.M., was tremendous and full of perils, and there were no Holiday Inns and Pizza Huts between Durango and the Land of Enchantment. Because the bishop couldn't be in New Mexico all of the time, he appointed an assistant, don Juan Felipe Ortiz, to oversee the Catholic kingdom of New Mexico.
Vicar Ortiz was New Mexican and, on the whole and despite his gross obesity, performed his religious duties well, including welcoming Lamy, who immediately took over his personal home and almost immediately fired him.
Wake for a Fat Vicar
demonstrates over and over how the Hispanic clergy attempted to show respect for Lamy as they tried their best to shower him with respect and dignity.
It was Lamy and his calloused vicar, Joseph Machebeuf, who did everything in their ecclesiastical power to destroy Ortiz and the Hispanic clergy. In this new book, Tom Chávez and his Franciscan uncle take off their gloves on the subject and demonstrate that New Mexicans not only know how to go to confession but they also know how to fight.
Wake for a Fat Vicar
is among Tom and Fray Angélico Chávez's best writings. -- G. Benito Córdova,
La Herencia
, Summer 2004
Very good! --
Today's Books
, May 2004
Wake For A Fat Vicar Father Juan Felipe Ortiz, Archbishop Lamy, and the New Mexican Catholic Church in the Middle of the Nineteenth Century,
by Fray Angelico Chavez & Thomas Chavez, sets before readers an outstanding book addressing misconceptions about Archbishop Lamy, Father Juan Felipe Ortiz and the New Mexican Catholic Church in the nineteenth century. This collaboration between uncle, Fray Angelico Chavez, and nephew, Thomas Chavez, brings an unusual and very strong scholarly perspective. Fray Chavez's broad understanding of the ecclesiastical and Thomas Chavez, a professional historian, brings a full dimension to this fascinating time and place in New Mexico.
This book reads like an adventure into the nineteenth century. It has wonderful black and white photographs, extensive footnotes, copies of original documents, and a broad bibliography. This reviewer highly recommends this book to libraries, university classes in religion, history and Latin American studies. Lay people will enjoy this book as it is very well written and interesting to read. --
Reviewers Consortium
, April 2004

The third title in a trilogy of works showcasing the lives of Hispanic leaders of the Roman Catholic Church in New Mexico during the middle of the nineteenth century,
Wake For A Fat Vicar: Father Juan Felipe Ortiz, Archbishop Lamy, And The New Mexican Catholic Church In The Middle Of The Nineteenth Century
is an in-depth account of the life and contributions of Padre Juan Felipe Ortiz and his activities with and in behalf of the Catholic community he served. Extensively researched, richly detailing Ortiz's life, virtues, and weaknesses,
Wake For A Fat Vicar
transports the reader through time in its deft accounting of an era gone by, populated with the people who lived, strived, who believed with a fervent faith and comprised an active and enduring Christian community. --
MidWest Book Reviews
, April 2004


Clearing up history — and a man's reputation

Would that every wrongly accused person could have defenders as dedicated, diligent and impassioned as the uncle/nephew team of Fray Angelico Chavez and Thomas Chavez in their posthumous defense of The Rev. Juan Felipe Ortiz, vicar of Santa Fe in the mid-1800s. And would that every historian and writer could have someone, when necessary, to take over and complete a project with as much care and commitment as the younger Chavez did when his uncle, now deceased, was unable to complete this book.
Wake for a Fat Vicar is the third in a trilogy by the respected historian, intellectual, poet, artist, folklorist and fiction writer Fray Angelico Chavez. Each of the three volumes focuses on a member of the New Mexico clergy as the focal point for exploring the complex confluence's of church and secular life during the turbulent middle years of 19th century New Mexico. In this case, the torrents of change swirled around poor Vicar Ortiz, the conspicuously obese padre of the title, who wanted little more, it seems, than to serve his Santa Fe parish. As circumstances evolved, the old vicar became an easy target of exaggerations, distortions and lies spread primarily by The Rev. Joseph Machebeuf, right-hand man of Archbishop Jean Lamy. Much of the distortion, it seems, was an attempt by Machebeuf to cover his own very serious clerical infractions. This would have been lamentable enough in itself. But later writers, historians and biographers continued the denigration of Vicar Ortiz and the other native New Mexican clergy with whom Lamy and Machebeuf had often bumpy relations. Notably, Willa Cather's Death Comes for the Archbishop and Paul Horgan's acclaimed biography, Lamy of Santa Fe, portray the vicar as indolent, cunning and greedy, and the general Mexican population of 1850s Santa Fe as ignorant, politically dangerous and prone to vice. As the authors — and an excellent foreword by the University of Arizona's Bernard Fontana — explain, this racially stereotyped perception had fertile soil in the attitude of some non-Spanish-speaking Santa Fe residents and visitors following the American capture of New Mexico from Mexico in 1846.
Thomas Chavez is a historian and former director of the Museum of New Mexico's Palace of the Governors. Along with Fray Angelico's first-hand knowledge of the Catholic Church in New Mexico, and as Hispanic natives of the state, the two seem ideally equipped to set the historical record straight. Turning to numerous original-source documents, many in Spanish, they painstakingly reconstruct events to point out, over and over, where distorted accounts clearly are at odds with documented fact. Especially critical is an understanding of the broader cultural, political, and canonical context of the time and place, of which the newly arrived French clergy themselves apparently were woefully ignorant.
The authors make a convincing and important case for a revised version of one chapter of-New Mexico history. At the same time, this final segment of Fray Angelico's trilogy could have been stronger and more accessible as a stand-alone volume — while losing none of its storyline or historical value — by means of the editing process. The-rearrangement of existing text, with the addition of brief explanations, might have served to better orient the new reader as to the importance of looking afresh at the book's chosen topic. A closer editing in general might be appreciated by nitpicky readers as well.
That said, Wake for a Fat Vicar is an admirable and significant addition to our understanding of a fascinating and pivotal period in New Mexico's history. Through efforts such as this, we would hope for fewer incidents of a regrettable phenomenon the authors decry with the Latin phrase sic historia crescit enundo: Wrong history rises again. -- Gussie Fauntleroy,
Santa Fe New Mexican
, March 28, 2004