The Complete Sermons of Jean Baptiste Lamy: Fifty Years of Sermons 1837-1886
Translated and edited by Thomas J. Steele, S.J.
5 x 5; CD-ROM Disk Equivalent to over 1,700 pages; Adobe PDF file compatible on both PC and Macintosh platforms. Software included.
ISBN 1-890689-20-3 $19.95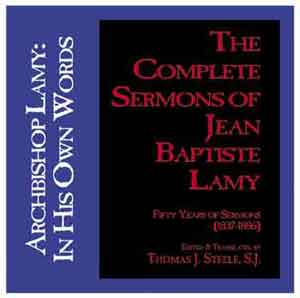 DESCRIPTION

On July 23, 1850, Pope Pius IX named Jean Baptiste Lamy as the first Vicar of the new Vicariate-Apostolic in Santa Fe - a diocese in the process of formation.

One hundred and fifty years later,
Archbishop Lamy: In His Own Words
dispels many of the myths surrounding this first Archbishop of Santa Fe. Noted scholar, student of New Mexican culture, and teacher Father Tom Steele has tracked down all of the existing manuscript sermons of Jean Baptiste Lamy (1814-88), the first Bishop of Santa Fe and the original of the title character of Willa Cather's novel Death Comes for the Archbishop. Lamy has been the subject of devotion, rumor, and attack for over a hundred years. In this book, Steele selects important and characteristic sermons and uses them to decipher the real Lamy, public and private. This book builds on previous scholarly work about Lamy, including Paul Horgan's Lamy of Santa Fe, and presents new information and insight based on Lamy's own writings. The book takes Lamy's writings and documented history and uses them to create a psychological profile of the Archbishop. Steele has also written Santos & Saints, The Regis Santos, and New Mexican Spanish Religious Oratory.

Ever since the 1927 release of Willa Cather's romantic novel Death Comes for the Archbishop, people have had a somewhat distorted and confused view of who Lamy really was and what he really accomplished during his thirty-eight years as the head of spiritual life on the frontier.

Steele has uncovered and translated over 250 texts by Lamy allowing us for the first time to decide for ourselves who was the real Lamy.

The CD contains all of Lamy's sermons and is compatible on both PC and Macintosh platforms.

If this had been produced as a book it would have been over 1,700 pages long.
REVIEWS

Thomas Steele has spent more than 30 years researching and writing about the devotional history of New Mexico. He currently teaches part-time at the University of New Mexico and directs the collection of New Mexican santos at Regis University in Denver. In his 80-page introduction to this book, he describes how different Lamy was from the title character in Willa Cather's novel Death Comes to the Archbishop and reveals the real Lamy, public and private. There follows a selection of Lamy's sermons with English translations on facing pages of those that are in Spanish. Also available is a CD-ROM of more than 250 sermons in Spanish, French, and English, with translations where needed. The CD, which would be more than 1,200 pages in book form, will work with both PCs and Mac computers. --
Theology Digest
, Volume 47, No. 4, Winter 2000
Collections of sermons are rarely published as historical documents, but when the sermons were written by Archbishop Jean Baptiste Lamy, and when they are analyzed by Jesuit Father Thomas J. Steele, the result is a major contribution to the historical literature of New Mexico. Steele located about 250 of Lamy's sermons, and 33 of them are reproduced in this book (all 250 are included on the CD-ROM). Steele considers at some length the differences between the historical Lamy and Willa Cather's fictional Archbishop Latour. He shows by means of psychological profiles that Cather gave to Latour her own personal characteristics, rather than those of Lamy. Many of the sermons were written in Spanish, and both the original Spanish and an English translation are included. With all that has been written about Archbishop Lamy, reading his own words in the form of these sermons will give the reader the closest view possible of the heart and soul of the man. -- New Mexico Book League Book Talk, Vol. XXX, No. 1, January 2001


WHAT PEOPLE ARE SAYING ABOUT THIS CD
This is a most unusual and extraordinary book. Father Steele's analysis of Lamy's personality and his even-handed critique of Willa Cather's Lamy novel, Death Comes for the Archbishop, seem right on target. The publication of Lamy's sermons reveals much about the man's inner world and motivation. An important contribution to the history of New Mexico and the Southwest. -- Dr. Marc Simmons, historian
Father Steele delves into the fog of a controversial figure and finds him. This work on Lamy, with his sermons, is at once balanced and very, very intelligent. Any real student of the time and subject will quickly realize the necessity of having this book handy. -- Dr. Thomas Chavez, Director, Palace of the Governors
Finally, we have a definitive work on Archbishop Lamy! Through the use of Lamy's own sermons, the author dispels the rumors and confusion that have surrounded Lamy since the writings of Willa Cather. You, the reader, are free to decide who was the real Lamy. Steele has given New Mexican historians a jewel. -- Dr. Margaret Espinosa McDonald, President, New Mexico Historical Society
AUTHOR INFORMATION

Father Thomas J. Steele has been a respected member of the Regis University English Department faculty for thirty years. Tom has also curated the Regis University Collection of New Mexican santos as well as a small collection of Native American artifacts, both housed at the Dayton Memorial Library on the Regis University Campus. He is most known for Santos & Saints (Ancient City Press) first published in 1974 and now in its third edition. His other writings cover a wide range of topics ranging from English literature, Hispanic religious history of New Mexico, and the history of the Southwest.
Father Steele currently resides in Albuquerque at the Immaculate Conception Parish. He is still actively researching the santos of New Mexico and writing on topics of historical interest. He also teaches part-time at the University of New Mexico on the religious history of New Mexico. Tom still haunts the antique stores of Canyon Road and Central Avenue looking for santos to rehabilitate and add to the Regis Collection.