COMPADRES: Carrillo y Herrera
by Barbe Awalt and Paul Rhetts
ISBN 1-890689-25-4 $125.00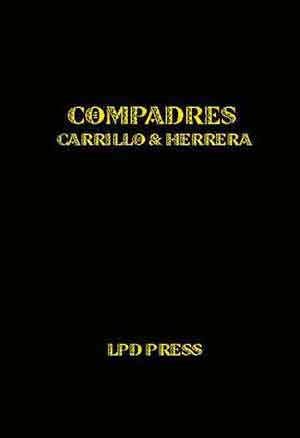 DESCRIPTION
Compadres: Carrillo y Herrera is a limited edition two-volume softcover set. Only 50 sets were made. The limited edition set includes Charlie Carrillo: Tradition & Soul and Nicholas Herrera: Visiones de mi Corazón. The sets are signed by the authors and are numbered (50 maximum). The sets cost $125.
Nicholas Herrera: Visiones De Mi Corazon/Visions of My Heart is the second in a series of books on contemporary Hispanic artists; the first was Charlie Carrillo: Tradition & Soul, which was published in 1994. This book deals with the life and art of Nicholas Herrera, santero from El Rito, New Mexico. The book includes over 400 pieces of Herrera's work including retablos, bultos, political commentary, cartoons, village scenes, and satires. Herrera's work is in the Museum of Spanish Colonial Art, Autry Western Heritage Museum, Harwood Museum, Smithsonian Museum, Regis University, Millicent Rogers Museum, Museum of International Folk Art, and Museum of American Folk Art. He has been part of exhibits in New York City, Paris, Chicago, Denver, Taos, Baltimore, Tucson, Dallas, Minneapolis, Colorado Springs, El Paso, Santa Fe, Albuquerque, and Los Angeles. Herrera is currently represented by Cline Fine Art in Santa Fe. It also contains photos by John T. Denne of Llano Largo. There are essays by Dr. Charlie Carrillo, author and santero; Cathy Wright, Director of the Taylor Museum; and Chuck Rosenak, author and collector.
Charlie Carrillo: Tradition & Soul is the first book on the market dealing with a contemporary Hispanic santero. The book, 128 pages with over 290 color plates, will include all of Charlie Carrillo's award winning pieces from Spanish Market from 1977 to present as well as the major pieces contained in museum collections. Carrillo's work is found in the collections of eleven major museums — The Heard, Albuquerque Museum, Denver Art Museum, Tamarind Institute, Millicent Rogers Museum, Gene Autry Western Heritage Museum, Museum of International Folk Art, The Palace of the Governors, El Rancho de las Golondrinas, The Taylor Museum, and the National Museum of American History/Smithsonian. The major photography in the book is provided by Ron Behrmann, Robert Reck, and Craig Varjabedian.


THE AUTHORS

Barbe Awalt and Paul Rhetts have nurtured a love affair with the New Mexican devotional arts for almost two dozen years. They have written or published together about 35 books. Their first book on the Hispanic arts of New Mexico—Charlie Carrillo: Tradition & Soul (1994)—was an instant hit. Other major books include The Portfolio of Spanish Colonial Design in New Mexico; Frank Applegate of Santa Fe: Artist & Preservationist; The Regis Santos; and Our Saints Among Us: 400 Years of New Mexican Devotional Art. Residents of the old land-grant village of Los Ranchos de Albuquerque, they have been publishing Tradición Revista: A Journal of Spanish Colonial Art & Culture since 1996.