The Stranger Comes at Sundown

Living & Dying with Parkinson's Disease
by Jane Awalt

FINALIST, 2008 NEW MEXICO BOOK AWARDS

5 photographs – 202 pages
$17.95/PB (978-1-890689-33-9)

$32.95/HB (978-1-890689-59-9)

Selected as 25th Most Popular Allied Health Professional Book on Amazon.com (10/21/08)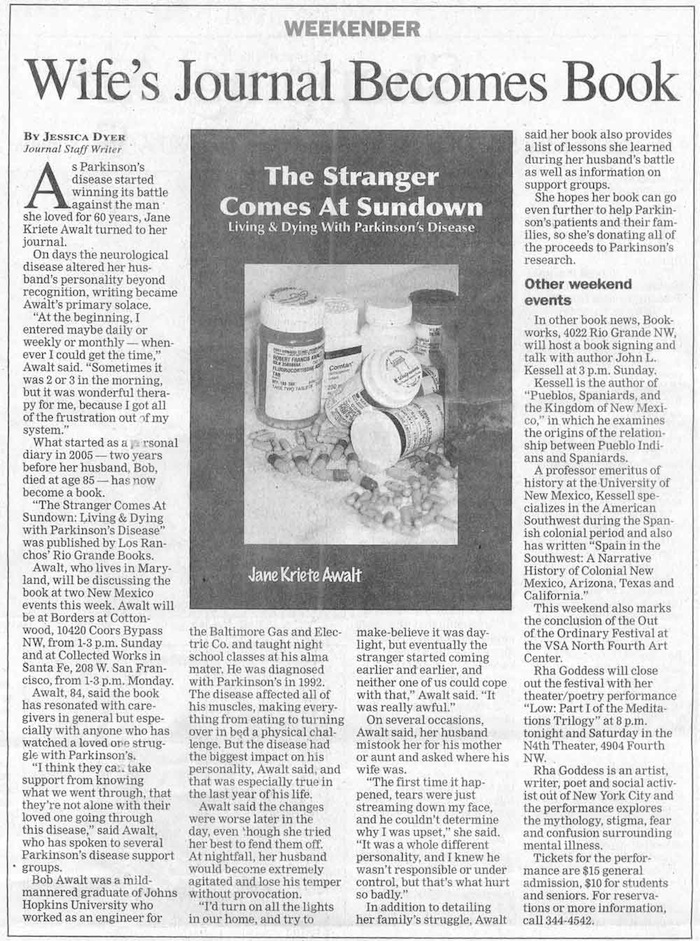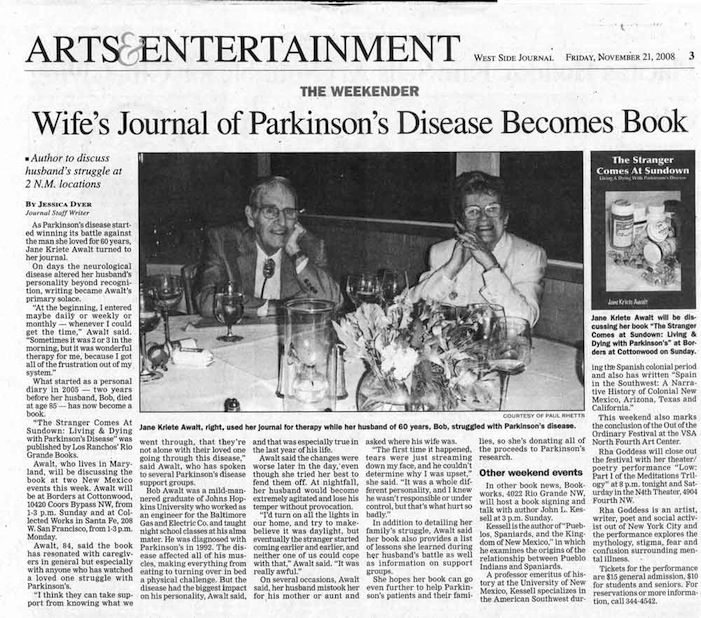 BOOK REVIEWS

For most of the last two years of her husband's fifteen-year battle with Parkinson's disease, Awalt kept a journal. As a primary caregiver, she brings the reader into her concerns: Will he wander away from the apartment during the night? Will he manage to reach the toilet or will she have another major cleanup chore? Will she be able to get him back into his bed when he falls out? Over and over, she gives thanks for the washer and dryer in the apartment. Over and over we hear about that Stranger who comes, frequently at sundown, to take over her husband's personality, a Stranger who begins to act out violently.
During the final three months, when she knows she can no longer continue to care for him herself, Awalt goes daily to spend hours with him at the Medical Center. This part of her journal kept me turning page after page to see what would happen next. Written for other caregivers, Awalt makes her case clear for better communication between doctor and family members. She spells out flags to watch for in other Parkinson's patients. One wonders what her husband's last days would have been like without her presence in the Medical Center, in spite of the good care and extremely high costs of his treatment.
Several unclear passages might have been reworked. Some of the repetitiveness could have been eased. But for all that, an insightful read. -- www.readingnewmexico.com

The Stranger Comes at Sundown featured on Good Day New Mexico on KOB-TV (4) in Albuquerque, NM.

WATCH IT HERE.
The Stranger Comes at Sundown featured on WOCV (TV-19) in Parkville, MD

. WATCH IT HERE.
More than 1,000,000 people in the United States are living, struggling, and dying with Parkinson's Disease — 50,000 more are diagnosed in this country every year. A personal journal of one family's struggle with the progression of Parkinson's Disease — One can understand the medicine and the treatment for this devasting disease, but nothing prepares one for living & dying with Parkinson's; this journal takes the reader by the hand as this disease takes control of one man's life.

ABOUT THE AUTHOR

Jane Awalt, married to Robert Awalt for 60 years, shares her personal journal of living and dying with her husband's disease as a gift to others, helping us understand the stages and progression of this devasting illness. Bob's story unfolds slowly like the disease, often taking startling turns and twists. The author was a stay-at-home mom, taking care of two children. She volunteered at schools, libraries, and historical societies. She volunteered at the DAR library in Washington, DC, as a docent for many years and assisted the genealogists in verifying supplemental papers for their members. She and her husband worked at the Baltimore County Historical Society for eight years assisting patrons with genealogy research. She and her husband indexed five ledgers from the old St. James Church in Baltimore for the Catholic Archives. She also completed three years of applications for membership in the patriotic organization Daughters of Colonial Wars. She has documented thirty lines of her ancestors arriving in Virginia before 1700.