Dejad a los Niños: A History of the Guadalupe Parish
by John M. Taylor
8-1/2 x 11

100 pages; 110 illustrations/photographs

SOFTCOVER 1-890689-31-9 Regular Price $25.00


Winner, 2007 New Mexico Book Awards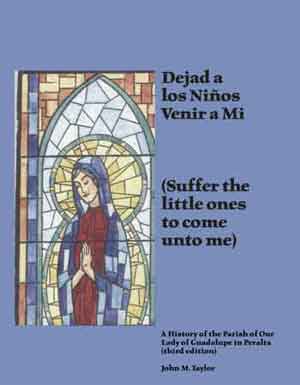 DESCRIPTION

This is a fresh new look at the historyof the east bank of the Rio Grande from Isleta to Tomé with a focus on the Parish of Our Lady of Guadalupe in Peralta. The book includes love stories, power politics, some genealogy and an unsolved murder and is lavishly illustrated with more than130 photos, paintings, and maps, many never published previously. John Taylor, long-time historian of this part of the Rio Abajo, captures both the history and the importance of religion in the lives of the residents of this area. This work will be of interest to students, historians, residents, and parishioners alike.
REVIEWS: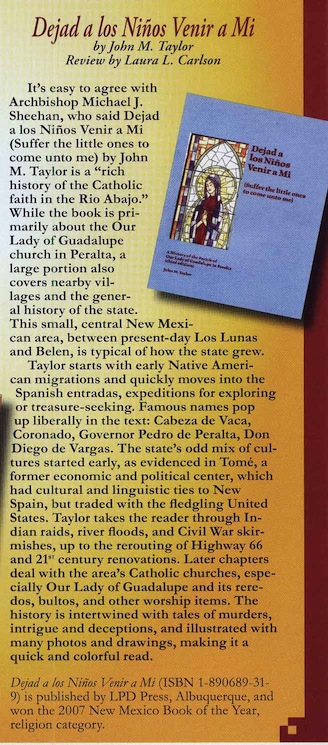 POSH Magazine, Winter 2008

John Taylor's well-illustrated book is about the history of the parish church in Peralta, New Mexico--Our Lady of Guadalupe Church. Readers will be interested in this historical record. --
Colonial Latin American Historical Review
, Winter 2004

John Taylor has done a masterful job in recreating the rich history of the Our Lady of Guadalupe parish in social, economic, and religious terms. Newcomers, long-time residents, and New Mexico historians will benefit from the fine detail and engaging stories Taylor tells. We have much to preserve in our Rio Abajo communities, but our lives are like closed shutters without a thorough knowledge of our past. John Taylor has done much to throw open the shutters to our collective past with this valuable new edition of his much-admired earlier book. -- Richard Melzer, President, New Mexico Historical Society


AUTHOR INFORMATION

John Taylor, a nuclear engineer at Sandia National Labs, is a long-time resident of the Rio Abajo. He has authored numerous books, including
Dejad a los Niños
, a history of the Rio Abajo churches which was just released in June 2005. He is a regular contributor to
Tradición Revista
.