Navajo and Pueblo Earrings 1850-1945
by Robert Bauver
128 pages, 80 color and b/w photos
$27.95 softcover (ISBN 1-890689-70-x)
$39.95 hardcover (ISBN 1-890689-49-0)
SOLD OUT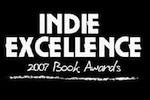 2007 WINNER, NEW MEXICO BOOK AWARDS
2007 SILVER MEDALIST, BEST REGIONAL NONFICTION BOOK, IPPY AWARDS
2007 FINALIST, ART BOOK, INDIE EXCELLENCE BOOK AWARDS
2007 SECOND PLACE NONFICTION, GENERAL, NEW MEXICO PRESS WOMEN COMMUNICATIONS AWARD
2006 FINALIST, BOOK OF THE YEAR AWARD, FOREWORD MAGAZINE
2006 SOUTHWEST BOOKS OF THE YEAR, TUCSON-PIMA LIBRARY
2006 FINALIST IN ARTS CATEGORY, BEST BOOKS USA BOOK NEWS
2006 SOUTHWEST BOOK AWARD, BORDER REGIONAL LIBRARY ASSOCIATION
Selected as 17th Most Popular Native American History on Amazon.com (11/13/08)


Bobbi Bauver appeared on National Public Radio to talk about his book. Listen to him by clicking the button below: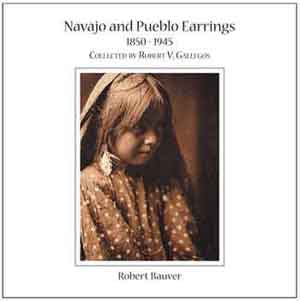 Collected by Robert V. Gallegos
The first book to explain and illustrate the different types of Native American earrings and the types of materials used, this book features the most complete collection of historic southwestern American Indian earrings ever assembled. The book has both archival photos and many photos of the actual earrings. It also explores materials used in the making of earrings and how earrings were used by Native American women. Robert Bauver has been a collector and scholar of Southwestern jewelry for over 30 years. He has worked on the Navajo reservation and now lives in Orange, Massachusetts. He is a member of the Board of Governors and a former President of the Antique Tribal Art Dealers Association (ATADA) and specializes in Native American pottery and classic Navajo and Zuni jewelry. Gallegos has been a dealer of Native American artifacts and is an expert on Southwestern antiques.

Author Robert Bauver was interviewed about Navajo and Pueblo Earrings on KSJE Public Radio in Farmington on August 6 by host Connie Gotsch. You can listen to his interview by clicking on the button below.


BOOK REVIEWS
BellaOnline.com

This book takes us back in history, to some early examples of Native women's earrings, through using Robert V. Gallegos 350 piece unparalleled collection of historic Native American earrings. Through viewing the photos, one can see the progression of style, bringing us all the way up to the mid-century mark, and the introduction of silver as a medium. To be able to view the collection illustrated in this book is a true honor, and the knowledge of the subject brought to the book by author, scholar, and Southwestern jewelry collector Robert Bauver, really brings this collection to life. This is the first book of its kind, illustrating, and discussing the types of earrings and materials used, and giving the history of the largest collection of historic Native American earrings in existence. This book is a must for any collector, be it of Native American books, or Native jewelry, but it is also a very interesting history that is presented here, and as such, is a recommended read for anyone with any interest in Native history, or of the popular silver and turquoise earring styles of today.
Props also to Rio Grande Books/LPD Press for the excellent job in presenting this book with it's many illustrations. They have brought their own distinct style to the book, which makes it a very enjoyable read. --
BellaOnline
, August 9, 2007

In Navajo and Pueblo Earrings 1850-1945 author Robert Bauver draws upon his experience and expertise from collecting and studying Southwestern Native American jewelry for more than 30 years. Providing an informed and informative introduction to the different types of Navajo and Pueblo earrings made by Native American craftsmen from 1850 to 1945, readers will learn how these adornments were used as Bauver combines archival photographs and current photographic illustrations of examples in this documented and specialized history of Native American culture. Also available in a hardcover edition (978-1-890689-49-0, $39.95), Navajo and Pueblo Earrings 1850-1945 is a work of outstanding scholarship and a unique contribution to Native American Studies that is especially recommended to the attention of academia and non-specialized general readers with an interest in Native American Studies.--
Midwest Book Review
, June 2007
For those interested in jewelry by early native people, this is the first book that explains the different types of earrings and the silver, copper, gold, and clay with mosaics they were made from. ... This book is an unusual angle into a part of Southwestern history that's little known --
Enchantment Magazine
, July 2007

If there is one object that seems to typify the beauty of the southwest it might be a Native American earring of turquoise and silver. Scholar Robert Bauver has written an informative and handsomely illustrated book based on one of the most complete collections of Native American earrings ever assembled. Fifty years ago, the market for old earrings was almost nonexistent, as they had little pawn value. As a result, there were many examples in trading posts and Pueblos, in old collections and on the Navajo Reservation. This book brings these earrings to light.
The fascinating history begins with the introduction of silversmithing from Mexico. Silver coins were often fashion ed into simple, if weighty, hoop earrings worn by men and women alike. Shell was an original ornamentation, and then the classic turquoise, although Hubbell Trading Post also encouraged the use of glass as a substitute for the stone. Small silver balls were an early decoration, followed by all kinds of innovation from filigree--with its ancient roots in the Mediterranean--to drops and the dangling, small squash blossoms.
Anyone who admires and wears Native jewelry will be intrigued to see the development of designs and the similarities to work produced today. He book includes archival photographs, including one of a Zuni cross-dresser, and looks at the veritable renaissance of jewelers at that pueblo. The book is invaluable for collectors, setting a new standard, but there is much here for the general reader as well--not least of all 50 color plates of earrings that are intricate and simple, bold and delicate, silver, turquoise and beyond--but always beautiful--
New Mexico Magazine
, June 2007
Both a historic overview of the Southwestern Native American earrings and descriptions of many individual pieces are done by an authority in the field. In the historical section, Bauver relates characteristics of different periods over the century covered, methods of production, and occasionally certain influential individuals. By the late 1870s, a change from the "annular [ring-shaped] concept of earrings" to the now widely-familiar "pyro-form-shaped drops of silver" had begun. With each of the nearly 50 sets of earrings or single ones pictured in color Bauver writes short essays usually of a couple of hundred words--more than annotations or captions--which are informative to points such as materials and craftsmanship; e. g., "Close examination of the three remaining hoops reveals that they are of native worked copper; each hoop clearly shows evidence of the repeated hammer blows that shaped the metal into a thin, elongated rod that was subsequently formed into a hoop." The 1945 date for the end of the period is somewhat arbitrary, except for marking the end of the Second World War when the Southwest became a popular tourist and retirement area, and commercialization set into the making of the attractive earrings in a significantly larger scale than it had in the preceding decades.--Henry Berry,
Gather.com
, February 27, 2007
A longtime student of Native American culture and collector of Southwestern jewelry, with knowledge gained first-hand from Navajo silversmiths, shares his expertise on earrings made from the mid-19th to mid-20th centuries. In what is presented as the first book to focus on the different styles, materials, and techniques used of this jewelry whose value is being rediscovered, Bauver provides examples of some 300 pairs of earrings in archival and new photos (including 49 color plates) in cultural context. --
Reference and Research Book News- University Press Book News
(November 2006 Volume 21, no. 4)
Replete with photos, the book chronicles the history of Native American earrings using Gallegos' twenty-year collection. A short, well-written history opens the book and the bulk is made up of photographs paired with captions discussing the genesis of the earrings pictured. A comprehensive index makes the book attractive to the scholar while the photos will attract the casual browser. This is the perfect book for anyone who has succumbed to the enchantment of silver and turquoise. --
POSH Magazine
, Fall/Holiday 2006
A MUST FOR COLLECTORS

Navajo and Pueblo Earrings 1850-1945 is a beautifully illustrated book featuring more than 120 pairs of earrings chosen from the 350-piece earring collection of Robert V. Gallegos--the most complete collection of historic Native American earrings in existence. The book opens with the history of personal adornment. Archival photographs (including an Edward Curtis on the cover) and contemporary magazine illustrations offer glimpses of what was popular at the time. Color plates of detailed, close-up photos--complemented with their history and useful information--of a progression of earrings round out the book. Endnotes and references then complete the book. Author Robert Bauver has collected Southwestern jewelry for more than three decades. As a scholar, he consolidated all existing information on the subject and added his own first-hand knowledge concerning Navajo and Pueblo artisans. And kudos to the publisher for the overall quality of the book. -- Larry Greenly,
AbqArts
, August 2006
Navajo And Pueblo Earrings 1850-1945: Collected By Robert V. Gallegos by Robert Bauver (a dedicated collector, expert and scholar of Southwestern jewelry for more than thirty years) is a photographic and descriptive showcase presented especially for collectors and aficionados of Navajo and Pueblo jewelry. Full-color photographs and extensive text entries for over 300 pairs of earrings allow the reader to experience the masterwork and subtlety in Navajo and Pueblo creations as surely as if seeing them in person. A brief introduction and history of Navajo and Pueblo earrings rounds out this respectful collection.--
Midwest Book Reviews
, August 2006