More Voices
of New Mexico

196 pages; 6 x 9 pb (29 photos) ISBN 978-1-936744-29-9 $17.95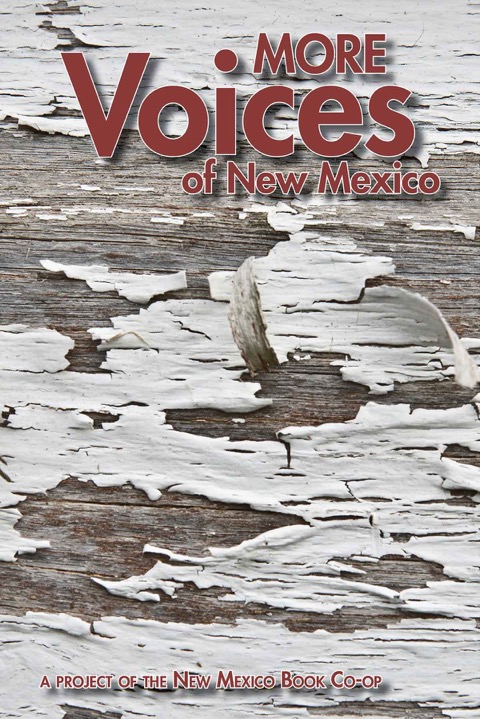 2015 New Mexico-Arizona Book Awards
Finalist, Cover Design (6x9), More Voices of New Mexico, cover design by Paul Rhetts



This third edition in the
Voices
series features 30 different writers and poets talking about all subjects in New Mexico and beyond.
More Voices
also has new photos, art, and historic photos.
The anthology of voices has humor, sadness, informational stories, and all kinds of poetry. The stories are vignettes – short glimpses – into life and history. An easy read before bed or commuting.

More Voices of New Mexico
is a project of the New Mexico Book Co-op, New Mexico's largest book organization with over 1500 members. The book sells for $17.95 and is available in all local bookstores, nmbookcoop.com, Amazon, and Barnes & Noble.com.



Contributors

Judit Alvernsz-Nagy
Steve Ausherman
Dan Bender
Derek Minno Bloom
Joanne S. Bodin
Joseph Bottone
Karin Bradberry
Shirl Brainard
Nicolas Cabrera
Sharleen Daugherty
Ruth Friesen
Elizabeth Ann Galligan
Thelma A. Giomi
Loretta Hall
Marlene Hawkes
Pat Hodapp
Kate Kuligowski
David Kyea
Dianne R.Layden
Deanna Dickinson McCall
John McWilliams
Susan Cummins Miller
Phyllis Morgan
Steve Murtough
Judy Nickell
Kate O'Neill
Gregory Opstad
Rae Marie Taylor
Jim Tritten
S.A. Young