The Talking Lizard
New Mexico's Magic & Mystery
by Nasario García with illustrations by Jeremy Montoya
96 pages; 5-1/2 x 8-1/2 pb (13 illustrations) ISBN 978-1-936744-36-7 $14.99 Bilingual, Grades 3 to 6


Winner, Young Readers Book, Finalist, Cover Design, and Finalist Juvenile Book, 2015 New Mexico-Arizona Book Awards
Honorable Mention, Children's Fiction, 2015 New Mexico Press Women Book Awards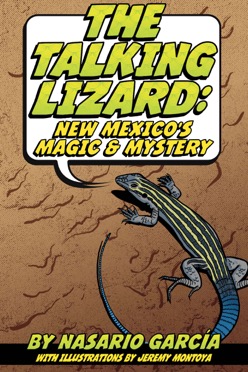 The Talking Lizard is a collection of stories in New Mexico folklore. The bilingual book features stories on snakes, bobcats, bears, witches, the moon, owls, lizards, dogs, and many more animals that will appeal to young readers. The book also contains a Glossary of Hispanic New Mexican words making this a useful tool for learners of Spanish.

Nasario García has written many books for children, young readers, and adults and the heritage of New Mexico. Considered a leading folklorist in New Mexico, Nasario lives in Santa Fe. The book is illustrated by Jeremy Montoya, an artist in Albuquerque metro area who specializes in poster art, silk-screening, and comic book art.


ABOUT THE AUTHOR
Nasario García was born in Bernalillo, New Mexico and grew up in the Río Puerco Valley southeast of Chaco Canyon. He received his BA and MA degrees in Spanish and Portuguese from the University of New Mexico. While a doctoral student at the University of Granada, Spain he studied under the eminent linguist Dr. Manuel Alvar. García was awarded his Ph. D. in XIX century Spanish literature from the University of Pittsburgh.
For over 30-plus years, García has devoted his life to the preservation of Hispanic language, culture and folklore of New Mexico. He has authored/co-authored 25 books and edited and/or translated 5 others. Among them are—Old Las Vegas: Hispanic Memories from the New Mexico Meadowlands (Texas Tech University Press, 2005), winner of the Southwest Book Award; and Brujerías: Stories of Witchcraft and the Supernatural in the American Southwest and Beyond (Texas Tech University, 2007), Southwest Books of the Year and a 2008 Finalist for the New Mexico Book Awards. His latest publications include: The Naked Rainbow and Other Stories: El arco iris y otros cuentos (University of New Mexico Press, 2009); Rattling Chains and Other Stories for Children: Ruido de cadenas y otros cuentos para niños (Arte Público Press, 2009) Fe y tragedias: Faith and Tragedies in Hispanic Villages of New Mexico (Río Grande Books, 2010), Finalist, New Mexico Book Awards, 2011; Bolitas de oro: Poems of My Marble-Playing Days (University of New Mexico Press, 2010); An Indelible Imprint: Rubén Cobos, A Multi-Talented Personality (Río Grande Books, 2011) Finalist, New Mexico-Arizona Book Awards, 2012; Grandpa Lolo's Navajo Saddle Blanket: La tilma de Abuelito Lolo (University of New Mexico Press, 2012). García currently resides in Santa Fe, New Mexico.