What Makes a Rainbow?

written and illustrated by Ross Van Dusen
32 pp; 8-1/2 x 11 hardcover (13 illustrations)

ISBN 978-1-936744-32-9 $19.95 Ages 3 to 9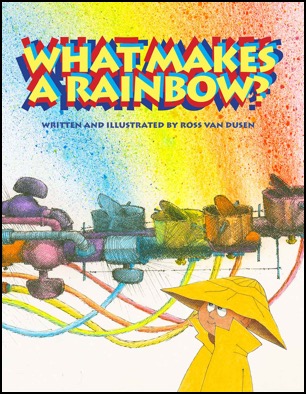 CONGRATS to Ross Van Dusen who received the Gold Medal Moonbeam Children's Book Award for Best Nonfiction Book Series for "What Makes a Rainbow?" and "What Makes a Snowflake?"




2016 Moonbeam Children's Book Awards
Gold Medal, Best Nonfiction Children's Book Series: What Makes a Snowflake? and What Makes a Rainbow? by Ross Van Dusen

2016 Eric Hoffer Montaigne Award for Innovation
Finalist: "What Makes a Rainbow? by Ross Van Dusen

2016 New Mexico Press Women
Second Place, Children's Nonfiction: "What Makes a Rainbow? by Ross Van Dusen

2015 New Mexico-Arizona Book Awards
Winner Science, What Makes a Rainbow? by Ross Van Dusen
Finalist, Children's Picture Book, What Makes a Rainbow? by Ross Van Dusen
Finalist Cover Design, What Makes a Rainbow? by Ross Van Dusen






Now Available at:
Collected Works, Santa Fe
Garcia Street Books, Santa Fe
Bookworks, Albuquerque
Treasure House Books, Albuquerque
Nature Works Shop at Natural History Museum, Albuquerque
Chama Trading Post, Chama




REVIEWS:

What Makes a Rainbow? is a children's picturebook that teaches young readers about how rainbows are made, using singsong rhyme and cheery color illustrations. "Now, when the sun / hits that tiny drop, / and hits it just right, / the drop acts as a prism / and splits up the light. // With the top being redder / and the bottom more blue, / the drop reflects those colors, / and guess what they do." At once both playfully entertaining and educational, What Makes a Rainbow? is an excellent choice to read aloud to curious young children ages 3 to 8. — Midwest Book Review, Children's Bookwatch/The Science Shelf, August 2015

We have all seen a rainbow but do we know how they happen? Artist Ross Van Dusen takes a whimsical look at how a rainbow comes to be.
A child looks at the colors, the rain, and the sky to give an explanation of why rainbows are in our world. Readers will love the colors, the words, and the ideas brought together in this magical book of drops of water.
The art is an amazing collection of images that children and adults will fall in love with over and over again.
Rainbows will never be seen the same way again.

ABOUT THE AUTHOR
When Ross Van Dusen retired as Executive Vice President and Creative Director of Chiat Day Advertising in San Francisco, he turned his attention to drawing, painting, sculpting, and writing fulltime and never looked back. He has written and published eight light-hearted mysteries for adult consumption with more on the way. But children's books were the perfect way to combine his two main interests. Children's books allow him to express the whimsy and joy all children feel—with bright colors and happy words. Plus a little real information along the way. He has two grown children, one grandchild, and one great grandchild and lives with wife, Jean, in Albuquerque, New Mexico.