Our Saints Among Us exhibit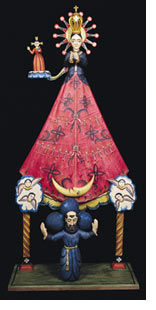 The Our Saints Among Us exhibit consists of over 750 pieces of New Mexican devotional art ranging from 1750 to present. There are works by over 150 artists in the collection. This is one of the largest privately-owned collections of New Mexican devotional arts in the country. Pieces include bultos (3-dimensional carvings), retablos (flat paintings on wood), prints (lithographs, serigraphs, and wood block prints), textiles, ramilletes, tinwork, silverwork, encrusted straw, straw applique, and furniture.


EXHIBIT AVAILABILITY

Venues generally schedule between six weeks and 3 months for the exhibit. The length of time that the exhibit can be rented and the rental fees are negotiable. The exhibit can be as small as 150 square feet up to 4,000 square feet of exhibit space.

The exhibit is currently available.

If you would like to contact us to schedule a new venue, please email is at
info@nmsantos.com
.


EXHIBIT VENUES

The exhibit has travelled to nine venues around the country between 1997 and 2002. The venues include the following:
* Henderson Fine Arts Center, Farmington, NM
* Center for Southwest Research, University of New Mexico, Albuquerque, NM
* Sangre de Cristo Arts Center, Pueblo, CO
* Fuller Lodge Art Center, Los Alamos, NM
* deSaisset Museum, Santa Clara, CA
* Grace Museum, Abilene, TX
* Donnelly Art Gallery, NMHU, Las Vegas, NM
* Centennial Museum, El Paso, TX
* Price Tower Museum, Bartlesville, OK Individual pieces and smaller components of the exhibit have been displayed in over two dozen other locations since 1994, in Los Angeles, Bakersfield, Santa Fe, New York, Colorado, and Texas, as well as other locations in New Mexico.
Santo & Hispanic Material Culture Collections
There are 43 institutions/museums that have identified New Mexican santos in their collections. Numerous other museums have Hispanic material culture, which may contain additional New Mexican santos. The New Mexican pieces are not necessarily on view to the public at all times so it's a good idea to call first to inquire.


COLLECTIONS WITH OVER 100 SANTOS

Archdiocese of Santa Fe
Albuquerque & Santa Fe, NM
(505) 983-3811
There are over 150 churches and capillas under the jurisdiction of the Archbishop of Santa Fe. Many of these contain both historic and contemporary santos. The Dioceses of Gallup, Las Cruces, Phoenix, Tucson, and Pueblo, as well as the Archdiocese of Denver also contain historic and contemporary santos in various churches. There is a permanent display at the Archdiocese Archives/Museum in Santa Fe.

Harwood Museum
Taos, NM
(505) 758-9826
There is Hispanic devotional art on permanent display.

Millicent Rogers
Taos, NM
(505) 758-2462
There is Hispanic devotional art on permanent display.

Museum of International Folk Art
Santa Fe, NM
(505) 827-6350
The Museum of International Folk Art in Santa Fe houses collections for the museum as well as for the Collection of the Archdiocese of Santa Fe, the Fred Harvey Collection of the International Folk Art Foundation, the Historical Society of New Mexico, the Collection of the School of American Research, and the International Folk Art Foundation. The Familia y Fe exhibit in the Heritage Wing has a permanent display of New Mexican devotional art and includes items from the Spanish Colonial Arts Society/Museum of Spanish Colonial Art.

Museum of Spanish Colonial Art
Santa Fe, NM
(505) 982-2226
The museum houses the collections of the Spanish Colonial Arts Society, which was founded in 1926 by Mary Austin and Frank Applegate, among others. Hispanic devotional art is regularly on display.

Regis University
Denver, CO
(303) 964-5500
There is Hispanic devotional art on permanent display in the Dayton Memorial Library. This is the largest teaching collection of New Mexican santos in the country.

Southwest Museum
Los Angeles, CA
(213) 221-2164

Taylor Museum
Colorado Springs, CO
(719) 634-5581



COLLECTIONS WITH BETWEEN 50-100 SANTOS

Denver Art Museum
Denver, CO
(303) 640-2793
There is Hispanic devotional art on permanent display.

Heard Museum
Phoenix, AZ
(602) 252-8840

McNay Museum
San Antonio, TX
(210) 824-5368

Natl Museum of American History
Washington, DC
(202) 786-2478
There is Hispanic devotional art in the American Encounters exhibit.

Roswell Museum & Art Center
Roswell, NM
(505) 624-6744



COLLECTIONS WITH BETWEEN 20-50 SANTOS

Barnes Foundation
Merion Station, PA
(610) 667-0290
The museum's entire collection is on permanent display.

Dallas Museum of Art
Dallas, TX
(214) 922-1200

Las Golondrinas
Santa Fe, NM
(505) 471-2261
There is Hispanic devotional art on permanent display.

Kit Carson Museum (& Martínez Hacienda)
Taos, NM
(505) 758-0505
There is Hispanic devotional art on permanent exhibit at the Martínez Hacienda.

Palace of Governors
Santa Fe, NM
(505) 827-6451
There is Hispanic devotional art in the Another Mexico: Spanish Life on the Upper Rio Grande, Northern New Mexico Chapel, and the Period Rooms: 1893 Governor Prince's Parlor exhibits.

Stanford University Museum of Art
Stanford, CA
(415) 723-4177

University of NM Fine Arts Museum
Albuquerque, NM
(505) 277-4001



COLLECTIONS WITH FEWER THAN 20 SANTOS

Adams State College
Alamosa, CO
(719) 589-7011

Albuquerque Museum
Albuquerque, NM
(505) 243-7255
There is Hispanic devotional art in the Four Centuries: A History of Albuquerque exhibit.

Amerind Foundation
Dragoon, AZ
(520) 586-3666

Arizona State University Museum
Tempe, AZ
(602) 965-2787

Autry Museum
Los Angeles, CA
(213) 667-2000

Bowers Museum
Santa Ana, CA
(714) 567-3600

Brooklyn Museum
Brooklyn, NY
(718) 638-5000

Cheney Cowles Museum
Spokane, WA
(509) 456-3931

Fogg Museum/Harvard University
Cambridge, MA
(617) 495-9400
There is Hispanic devotional art in the Persistence of Memory: Continuity and Change in American Cultures exhibit.

Gadsden Museum
Mesilla, NM
(505) 526-6293
There is Hispanic devotional art on permanent display.

Ghost Ranch Museum
Abiquiú, NM
(505) 685-4333

Hispanic Society of America
New York, NY
(212) 926-2234
There is Hispanic devotional art on permanent exhibit.

Lowe Museum
Coral Gables, FL
(305) 284-3535

Museo de las Americas
Denver, CO
(303) 571-4401

National Museum of American Art
Washington, DC
(202) 357-2700

Nelson-Atkins Museum
Kansas City, MO
(816) 561-4000

Panhandle-Plains Historical Museum
Canyon, TX
(806) 656-2244

Raton Museum
Raton, NM
(505) 445-8979

San Antonio Museum of Art
San Antonio, TX
(210) 978-8100

San Diego Museum of Man
San Diego, CA
(619) 239-2001

Sangre de Cristo Arts Center
Pueblo, CO
(719) 543-0130
There is Hispanic devotional art on permanent exhibit.

Santa Barbara Museum
Santa Barbara, CA
(805) 963-4364

St. Louis Museum
St. Louis, MO
(314) 721-0072

University of California at Berkeley Art Museum
Berkeley, CA
(510) 642-0808

Vatican Museum
Rome, Italy



HISPANIC MATERIAL CULTURE COLLECTIONS

Amarillo Art Center , Amarillo, TX
Art Museum of South Texas , Corpus Cristi, TX
Art Museum of Southeast Texas , Beaumont, TX
Arizona Historical Society , Phoenix and Tucson, AZ
AZ State Museum , Tucson, AZ
Bass Museum , Miami, FL
Chavez Co Historical Society , Roswell, NM
Craft & Folk Art Museum , San Francisco, CA
Davenport Museum , Davenport, IA
Deming Luna Mimbres Museum , Deming, NM
El Pueblo Museum , Pueblo, CO
Fort Garland Museum , Garland, CO
Fowler Museum , Los Angeles, CA
Fresno Art Museum , Fresno, CA
Haggin Museum , Stockton, CA
Huntington Library , San Marino, CA
Kansas City Historical Society, Kansas City, MO
LA County Museum , Los Angeles, CA
LA Craft & Folk Art Museum , Los Angeles, CA
Lincoln Co Historical Museum , Carrizozo, NM
Lowe Museum , Berkeley, CA
Mexican Museum , Chicago, IL
Museum of Abilene , Abilene, TX
Museum of American Folk Art , New York, NY
Museum of Fine Arts , Houston, TX
National Park Service , Santa Fe, NM
No. Arizona University Museum , Flagstaff, AZ
New Orleans Museum of Art , New Orleans, LA
Oakland Museum , Oakland, CA
Orlando Museum of Art , Orlando, FL
Philadelphia Museum of Art , Philadelphia, PA
Riverside Museum , Riverside, CA
School of American Research , Santa Fe, NM
Snite Museum , Notre Dame, IN
Tempe Museum , Tempe, AZ
Tucson Museum , Tucson, AZ
Univ of AZ Museum of Art , Tucson, AZ
Utah Museum of Fine Arts , Salt Lake City, UT