More Pet Friends
with Terrie Q & Travelin' Jack
136 pages; 8.5 x 8.5 pb (245 color photos) ISBN 978-1-936744-49-7 $26.95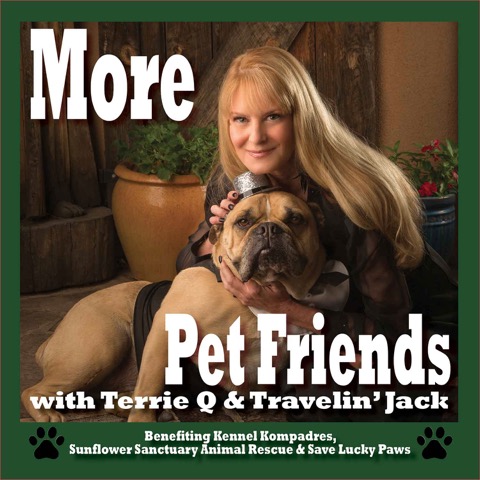 2015 New Mexico-Arizona Book Awards
Winner, Pets/Animals, More Pet Friends by Terrie Q Sayre & Travelin' Jack
Finalist, Cover Design, More Pet Friends by Terrie Q Sayre & Travelin' Jack




More Pet Friends was a project of love by Terrie Q Sayre and she had finished proofing, writing her essays and advising on the book before her untimely death. The profits from the sales of the book go to Albuquerque Animal Welfare, Save Lucky Paws, Sunflower Animal Sanctuary, & Kennel Kompadres in Terrie's name.

Pictures of Governor Martinez & her family & her dogs, Mayor Berry & Skip, the Sandia Pueblo buffalos, many media people like Tessa Mentus of KOB TV, Adam Baca & Don James of Albuquerque The Magazine, and all sorts of people from KKOB appear throughout the book. There are also authors like the great Max Evans and Slim Randles. There are photos from the staff of the Balloon Museum and of course Travelin' Jack. And dozens of pet owners from around the world.
The book will be available Valentine Day weekend at the Balloon Museum gift shop, Bookworks on Rio Grande, and Treasure House Books in Old Town. The book will be $26.95.
It is the least we all can do to turn a tragedy into help for pets—a lasting legacy in the name of Terrie Q Sayre.


A portion of all sales will be donated to three animal welfare organizations:
Kennel Kompadres, the friends organization for the Albuquerque City Animal Welfare Department, supports humane education, adoptions, and the City spay/neuter voucher program.
Save Lucky Paws is the official non-profit which supports the Lucky Paws adoption site in Coronado Mall.
Sunflower Sanctuary Animal Rescue provides a home for handicapped dogs and dogs with behavioral issues.


A PORTION OF ALL SALES HELPS TO SUPPORT
ANIMAL WELFARE PROGRAMS