Faces of Market: Traditional Spanish & Contemporary Hispanic Market
by Barbe Awalt & Paul Rhetts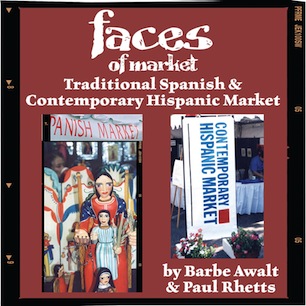 64 pages 170 illustrations; 81⁄2 x 81⁄2
ISBN 978-1-890689-94-0 ($19.95) (Trade paper)


This is the first time both Spanish and Hispanic Markets in Santa Fe have been featured together in a single book. It is appropriate that the tradition be celebrated and remembered for New Mexico's Statehood Centennial in 2012. Pictures of Market from twenty years are presented like a scrapbook. In addition, this is the first time Best of Show winners of both Markets and the Masters Awards for Lifetime Achievement for Traditional Market are compiled. There are resource listings with books on traditional Hispanic art of New Mexico, museums with Hispanic art collections, videos, newspapers, and magazines. The history on both Markets is explored—how they came to be and what is involved in both Markets. It is also a record of people who have passed or left Market over the years.


ABOUT THE AUTHORS:

Awalt and Rhetts, authors of a dozen books on the Hispanic art of New Mexico, are the publishers of Tradición Revista magazine, the only magazine that focuses on the art and culture of the Southwest. They have also published over 100 books on the art, culture, and history of New Mexico.


BOOK SIGNINGS

Book signings and events are listed as a master calendar. Check out the calendar by clicking the button below:


Saturday, June 26, 2-3pm —Lavender in the Village Books in the Barn, Los Ranchos, NM
Saturday, July 17, 1-2pm — de Colores Spanish Market, 112 Rio Grande Blvd NW, Albuquerque, NM
Friday, July 23, 5-7pm — Contemporary Hispanic Market Preview, Santa Fe Community Center
Saturday, July 24, 1-2pm — Museum of New Mexico History/Spanish Market, 113 Lincoln, Ave, Santa Fe, NM
Saturday, November 13, 11am-1pm — Heard Museum Spanish Market, 2301 N Central Ave, Phoenix, AZ

BUY THE BOOK BY CLICKING ON THE BUTTON BELOW: